Cayuga Lake out of Myers Park 10/24, 25 + 27(AM)
Guided three out of the last four days out of Myers Park on Cayuga Lake.  Last year around this time of year, we had some terrific "post-spawn" lake trout fishing.  These fish could be called "drop-backs" even though they aren't dropping out of streams, but that's more or less what a lot of the fish are – after spawning they are "dropping-back" into eating mode!  This year thus far has been a repeat of last year with top-notch action on mostly large fish averaging 27″ long.  There's a lot of baitfish around and lake trout are taking advantage of the buffet.  Fish are generally fighting very well with 58-degree water on Cayuga Lake's surface.  Foliage is peak to post-peak.  We are fishing 100′ to 130′ feet of water.  We've been using dark colors during dark periods of the day, and then brightening up the colors later on.  At least half of the fish are still somewhat thin, but certainly not emaciated from the spawn; some are still dripping eggs and others don't appear to be spawners.
10/24:  Guided Joe and his friend John for a full-day trip starting just after 8:30 am.  I pretty much set us up in one area and we more or less stayed there (or very close to it) all day long.  Fishing was superb.  The guys had a blast and they kept me very busy with the net throughout the day.  Lulls in action might have lasted 5 minutes.  The guys brought their own gear – both rods/reels and lures and rifled through a lot of different plastics and colors on the day.
When the fishfinder looks like this, you're usually going to have a great day!
We had this, all day long!
John and John
I'm holding one here for a shot
John with one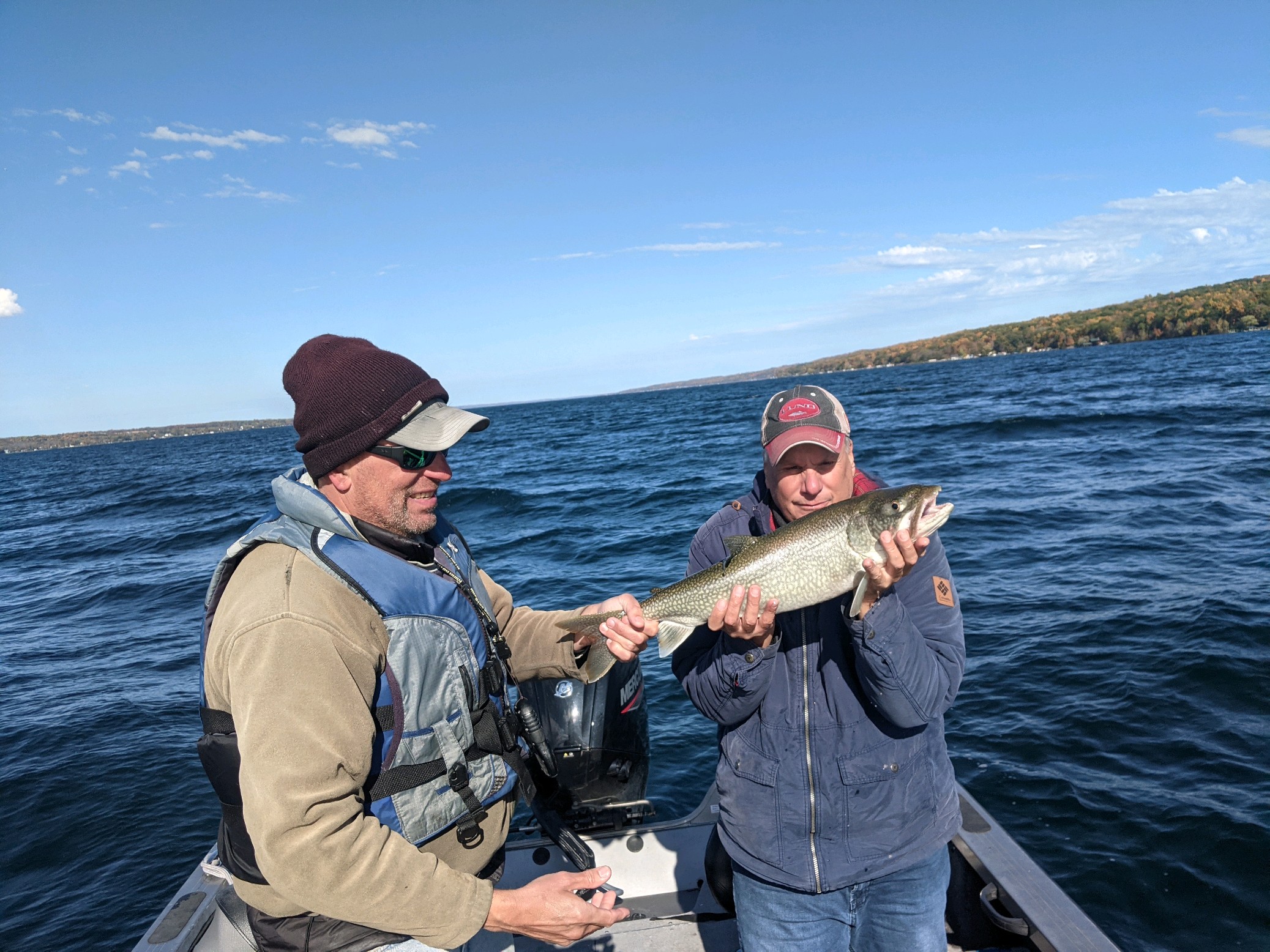 About to net one here!
10/25:  Guided Ron today for a full-day.  It was another superb day of angling.  Ron's fished with me since around 2007 or 2008 and he loves to laker fish.  We've had some great days of pike fishing together but he's always loved catching lake trout, going back to the 1980s when he lived in Alaska.  He had his personal best day today with me.  It was a lot of fun and I handled fish all day long.
A special fish on the day for Ron!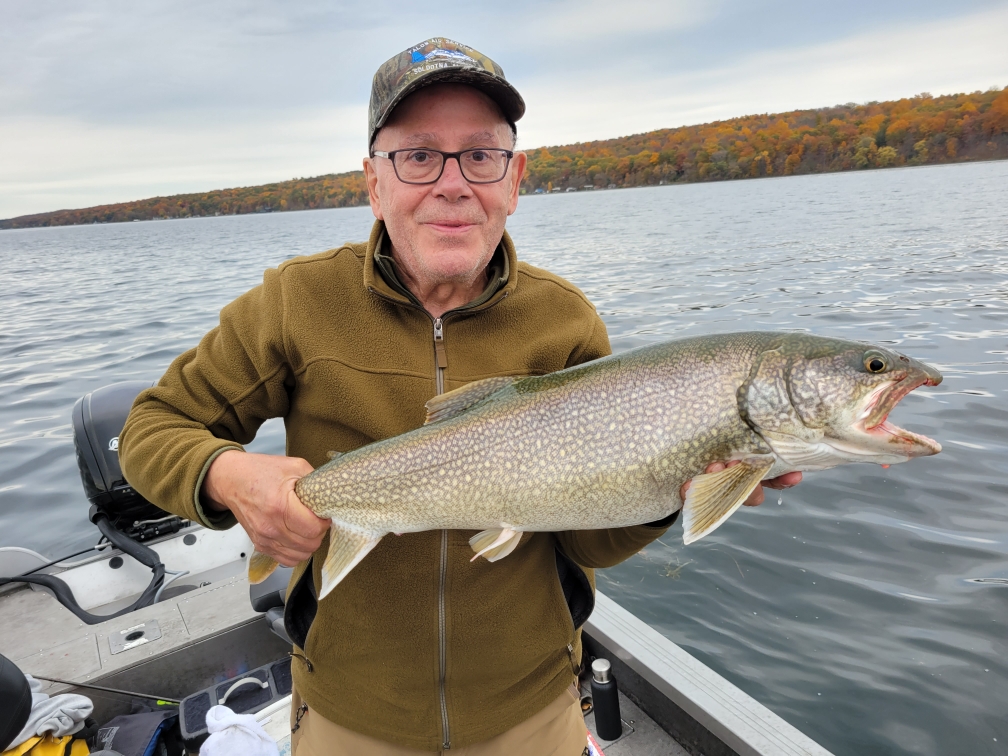 Hooked up!
10/27 AM:  Today I guided Larry and Jenn who joined me two-weeks ago on Cayuga Lake for a productive, but somewhat cold day.  We had terrific weather today and the bite was just as hot as it was for the past couple of trips.  We had plenty of fish, all topped by Larry's 31″ fat chunker!   What a solid lake trout!
Overall, we've seen very few lampreys lately.  I've seen one live lamprey come up on a fish over the past 3 trips.  Maybe one in twenty fish is showing a fresh wound, so things look great on Cayuga Lake.
Larry's 31" FAT beast!
Larry's first of the morning
Jenn with one - she had the hot hand early!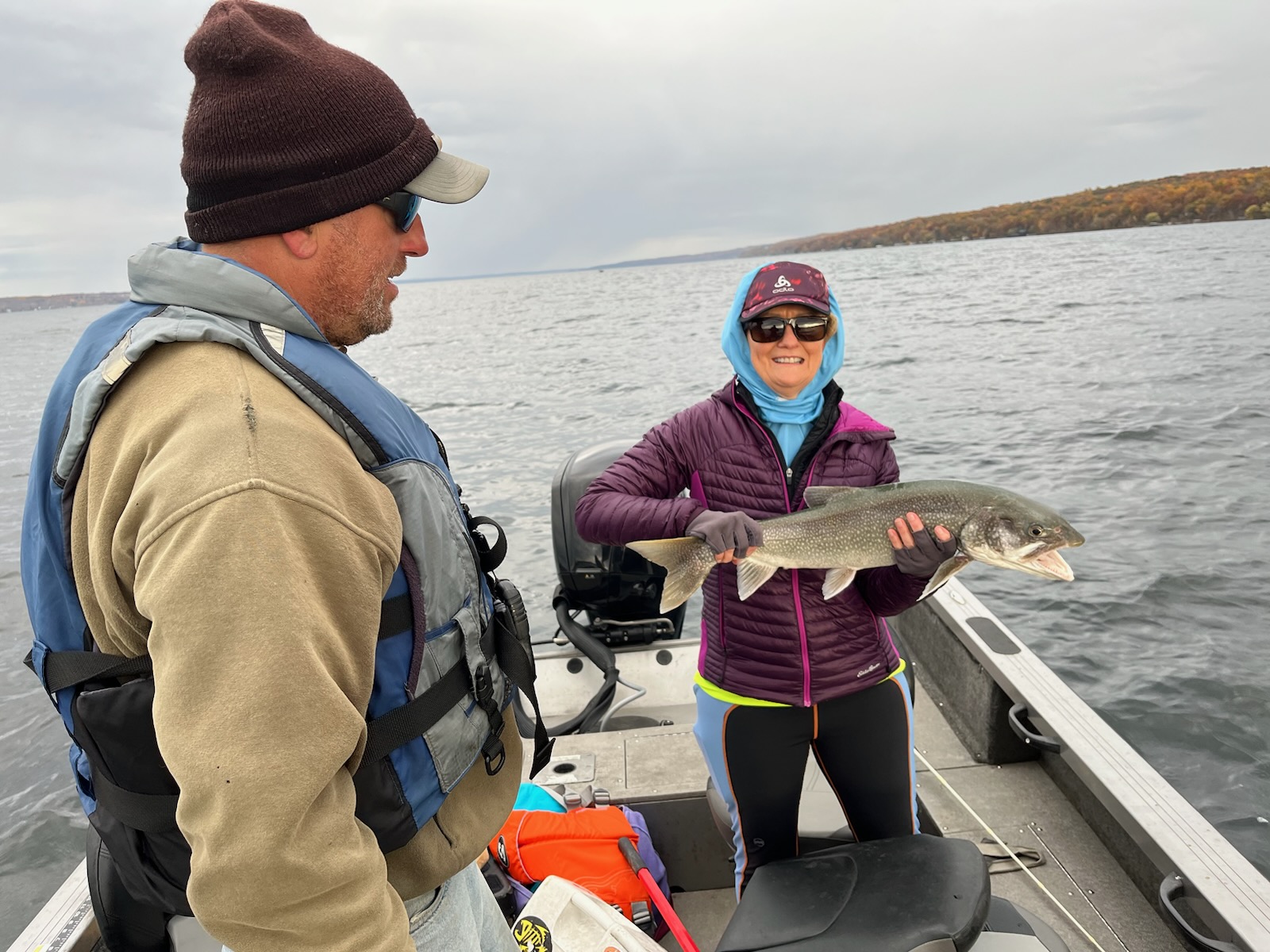 Another Jenn fish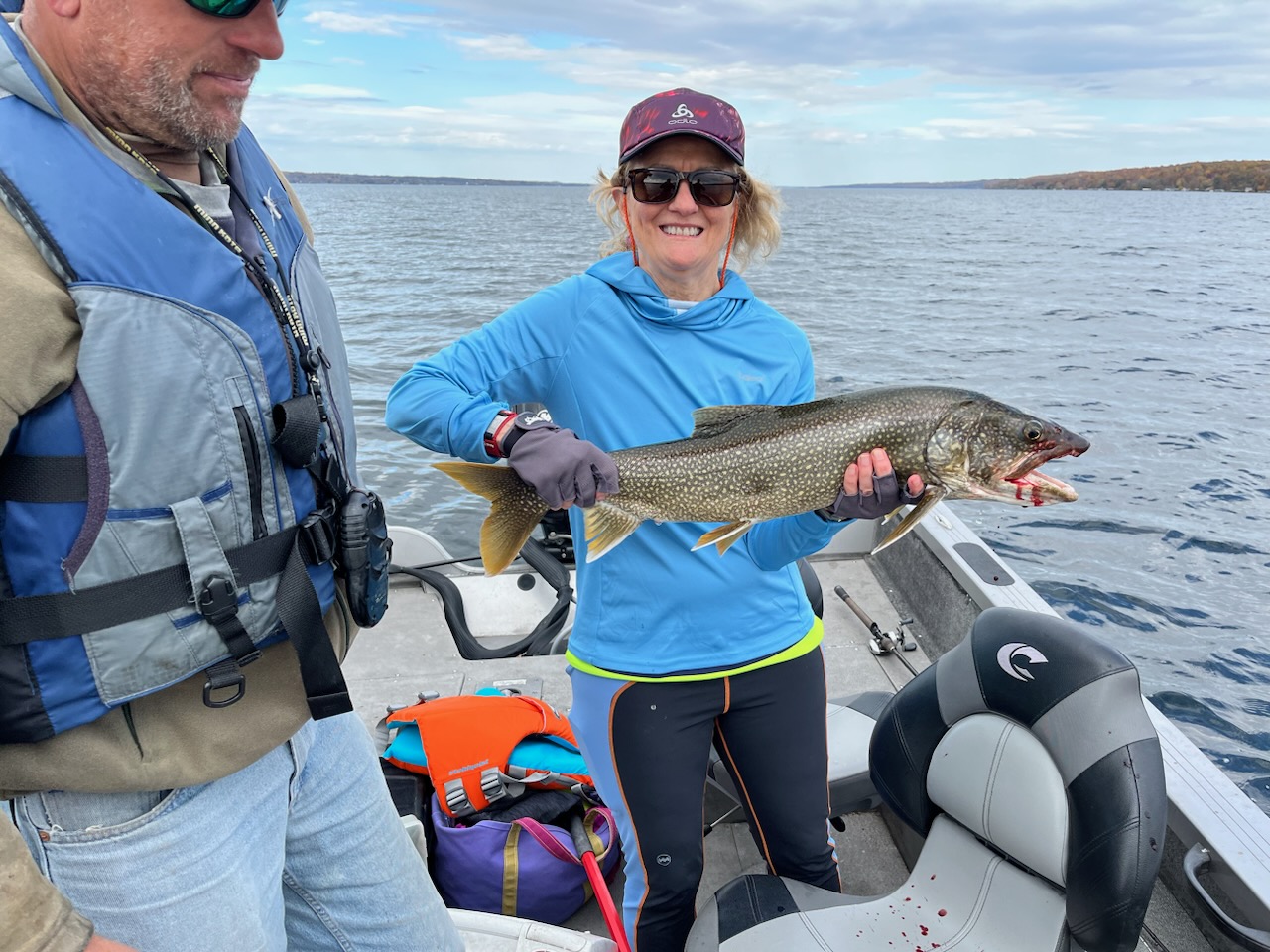 Netting one