Cayuga Lake out of Myers Park 10/4
Guided Steve and Dave for a full-day trip starting at around 8:30 am.  Lake trout propagation netting is in full swing at Taughannock State Park and appears to be winding down.  I saw two nets set in the afternoon, which generally means that the crew got most of the fish they needed during the first two days and just needs a few more to hit their egg quota.
We had a bluebird day to start and Steve mentioned some concern about it.  Steve does a lot of fishing and knows that sometimes clear, cloudless days can result in tough fishing.  During the fall on Cayuga Lake I tend to like brighter days with some cloud cover, although I'd rather have sun than overcast conditions any day.  The toughest days I encounter this time of year are typically harsh cold-fronts with strong winds and cloudy conditions.  That being said, we got off to a very slow start today.  We worked around the park and then made a good run, which really didn't pay off apart from a real dink that Steve nabbed – maybe our smallest lake trout of the year, a fish around 12″ long!
A few hits were missed but things didn't appear too promising.  I encouraged the guys to stay positive and fortunately I had the right guys on board.  They know fishing and enjoyed themselves immensely.  What's not to love about Cayuga as the leaves are starting to change?  The air temperatures were quite comfortable due to the nice south winds.  Dave molds a lot of his own plastics and cycled through a lot of colors as the day went on.  Eventually things started to look up and Steve wound up with the early hot hand.  As the day progressed, Dave locked into a winning color combo and technique and nabbed some beautiful fish.  We wound up with a nice double-digit day with some fine trout landed.  A few of the fish appeared to be post-spawn.
After the slow morning with neutral to negative fish, it would have been easy to chalk today up as a tough day and take the foot off the gas so to speak, but we persevered, and it wound up being a great day.   All it takes is being in the right place at the right time with the right presentations.  It was one of the most satisfying days I've guided all year and the guys really helped make it possible!
Steve hooked up
Dave with one of the nicer fish of the day!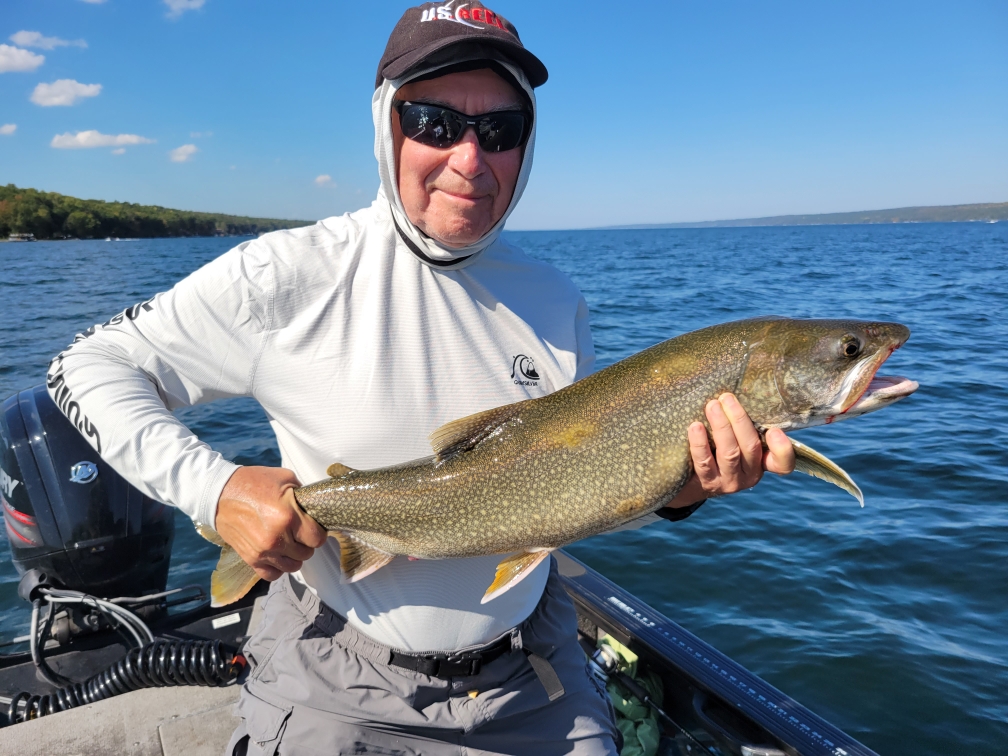 Surface temperatures remain warm, but much of the water below the surface has cooled off considerably.  After next week, I would expect surface temps to drop down rapidly.  Boat traffic was very light today.  A lot of people will likely be taking their boats out of the marinas over the next week.