Cayuga Lake out of Myers Park 10/8 – 10/9
Guided the past two days out of Myers Park targeting lake trout.  Fishing remains good – slow at times but also very good at times.  We are mostly catching post-spawn fish.  They are running large – many are in the 27″ to 28″ range.  Boat traffic has been low – both pleasure boaters and fishermen.  Surface temps have been dropping nearly a degree a day.  We were at 65 degrees today.  Best action for us has been from around 100′ out to 130′, although decent numbers of fish are shallower.  Many colors of plastics are working well.  I can't say there's been a color appreciably better than any other over the past couple of days.  Fall foliage is rapidly approaching its peak.  Give it another week or two and we'll be there!
10/8:  Guided Steve and his friends Ben and Chris for a full-day trip.  The forecast called for highs in the low 50s, a good chance of rain(!) and winds gusting to 30 mph.  Not what I'd call pleasant fishing weather!  The guys were committed to this date (after we had to reschedule an earlier trip due to my bout with the flu.)  The guys all had the right attitude and temperament for the day and we wound up hitting the double-digits, which really even surprised me!  We had a fun day despite the cold, wind and even some rain.  Fun group of guys!   Steve might have hooked a good rainbow for a little bit.
Ben kicking us off for the day!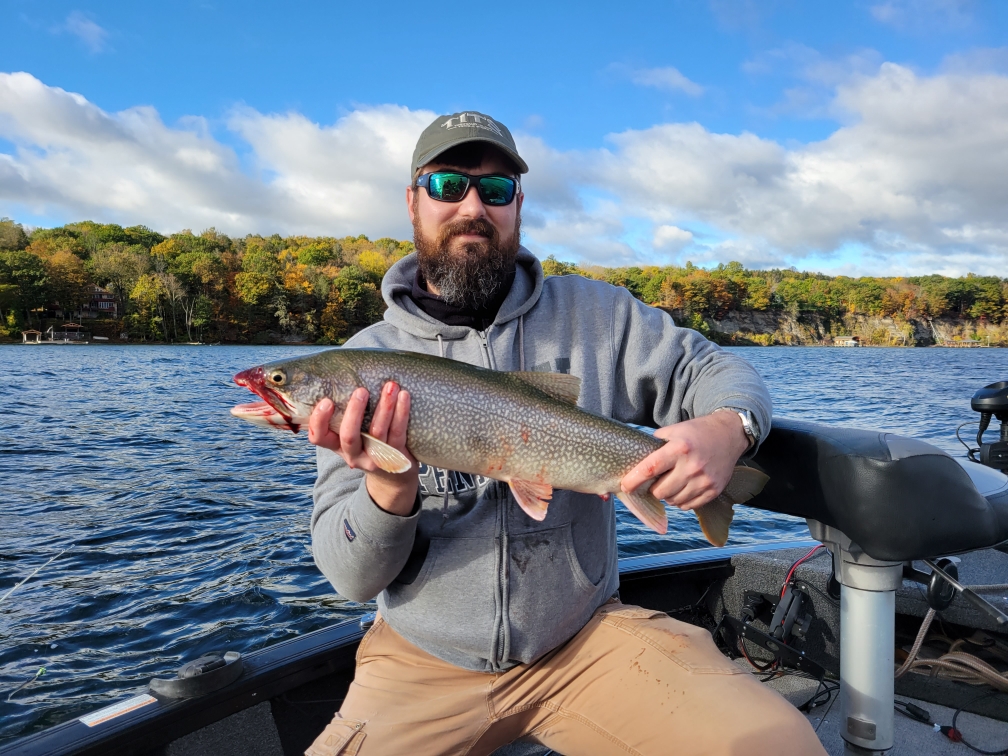 Ben strikes again!
Chris's turn!
Steve with one
A lot of the lakers I'm seeing now are skinny and in a somewhat beat-up post-spawn condition.  It will take a few months before these fish really regain the weight they've lost.  There are also some very nice looking, plump, non-spawners and pre-spawners in the mix – those are the ones I would eat if I were to harvest a few fish.
10/9 AM:  Guided George and his friend Ed for a half-day starting just after 8 am.  George has followed my website for a while and wanted to do some laker jigging.  I gave the guys a good tutorial.   It was cold this morning and somewhat windy, but we wound up having a very solid day with 7 nice fish landed and some decent hookups lost.  Ed kept me regaled with some hilarious and entertaining fishing and hunting stories.  It was another very fun day!  We saw maybe one other boat out fishing.  That was it!
Ed hooked up!
Ed with one
George with one
I still have decent availability going into late-October.  Plenty of dates remain open in November too!