Cayuga Lake out of Myers Park 8/23 AM + Owasco Lake 8/24 AM
8/23 AM:  Cayuga Lake out of Myers – Guided Larry and his wife Jennifer for a 1/2 day starting at 7 am.  We spent the morning on good numbers of fish, but they didn't cooperate all too well for us.  Jennifer led us off with a very nice lake trout – her first ever I believe.   Some hits were missed and fish dropped but eventually we got into some better action.  We wound up with 5 nice fish for the morning and we left them hitting.  Friends of mine were on the lake and had very solid days.
Jennifer with a nice trout to end the day
Hooked up earlier
Larry with a squirmer!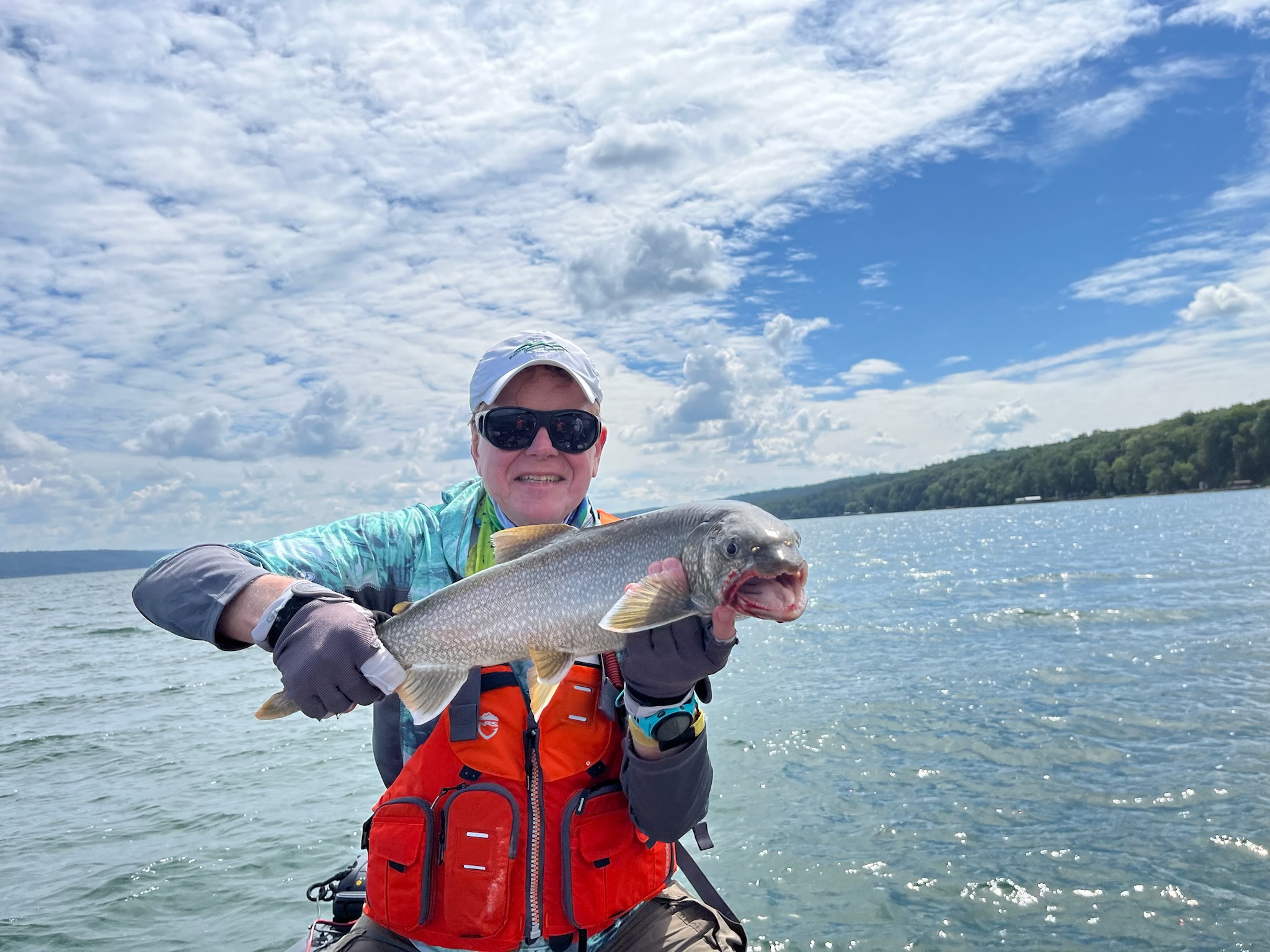 8/24 AM:  Owasco Lake – Guided Lucien and his son Nick today for a 1/2 day starting just after 7 am.  I mentioned moving our trip date after looking at the weather forecast but this was the best window for the guys, so we stuck with it.  Needless to say, we were probably the only boat on the lake all day with south winds gusting to 26 mph and some rain at times!   Lucien has a place on the lake and wanted to learn the technique.  I gave them a very good foundation on what they need to do.  Nick had the hot hand for much of the trip and nabbed our first laker in fairly short order.
We worked down the lake and managed to get out of the wind and get a decent bite going.  Four more nice fish were landed up to 27″.  Nick also had on a nice, beautifully colored rainbow trout that got off just as I was about to net it.  It's a shame and I take blame for it by not checking his knots after his last laker.  I am a stickler for that stuff, as anybody who has been out with me wound attest to, but sometimes in the heat of the fishing moment, I forget to do it.  I'm often handling fish or getting other matters taken care of and clients are in a hurry to get back to fishing.  It was a nice fish, likely around 24″ or so.  Overall it was a good day and I was very pleased with how we did given how tough the lake conditions were.
Nick with a good one
Lucien with a good one