Cayuga Lake out of Myers Park 8/3 – 8/5 AM
Guided Cayuga Lake over the past three days.  Water clarity is great.  Weed mats are widespread and water fleas are bad – fortunately those aren't issues for jiggers.  The bite has been challenging and I think it's largely due to the "super moon" we have going on.  Full moons are what I call "candlelit all-night, all-you-can-eat dinners" for trout and salmon.  There are fish all over the lake and at times the fishing is good, but it isn't what we typically expect for August fishing on Cayuga Lake.  I think the "catching" will improve by the day.
Here's the rundown:
8/3 AM:  Did a 1/2 day trip with Kelly, her daughter Kelise and nephew Chris.  We started just after 7:30 am.  The bite was very slow for the first two hours.  Our goal was to get Kelee (her nickname) into a fish, and sure enough, it happened!  Eleven-year-old Kelee was thrilled to catch her first lake trout – a 29″er (if I remember correctly.)  She had a little help from Chris with the rod.  Later on, she nabbed a 30″er all by herself!   That was awesome to watch.  Chris also nabbed a couple fish and Kelly, who was the butt of a lot of ribbing, finally caught one to end our day.  Fun trip!
Kelise with her first lake trout, held by Kelly
Chris hooked up
Chris holding one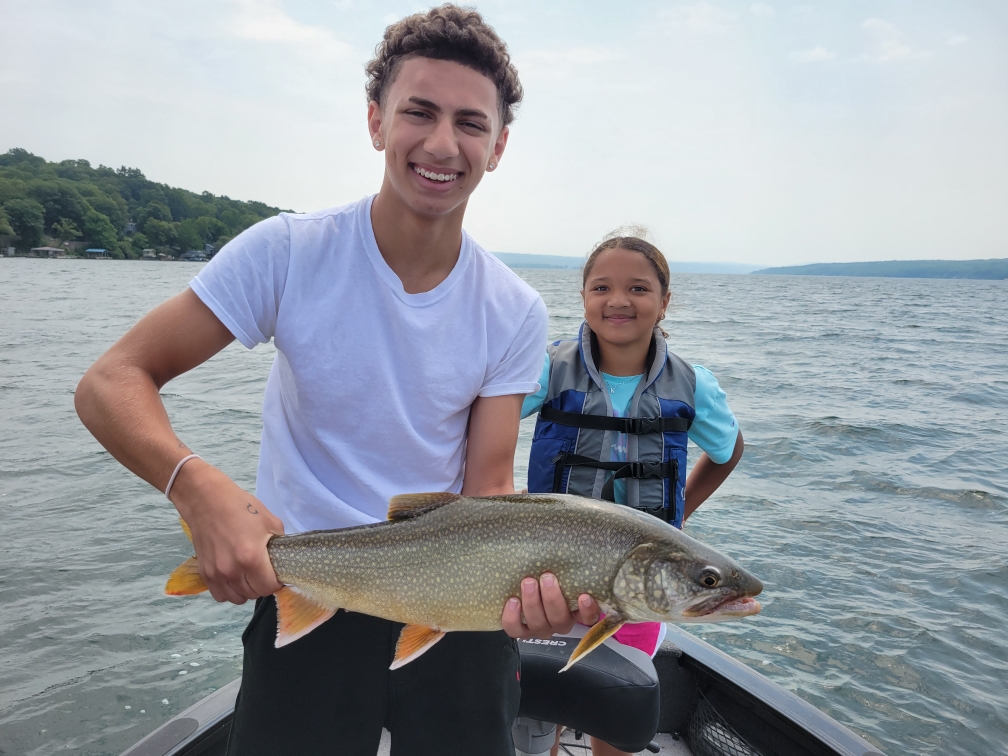 Kelise with her big one! Caught completely solo!
Chris again
8/4 AM:  Guided Greg today starting at 7 am.  On Greg's last couple of trips over the past two weeks, we fished Owasco Lake, targeting lakers for my smoker.  Today we were hoping for a big brown.  It didn't happen, but Greg nabbed a football brown that was a shade under 20″ and a nice 23″ stocked rainbow, along with a couple nice lakers.  All fish released today.  The forecast was doom and gloom, but the storms stayed to the north and east of us and we never felt a drop of rain.  Greg did drop a potential big brown today, but we'll never know since we never saw it, but it was in brown trout water for sure.
Not a big brown, but a FOOTBALL for sure!
23" Rainbow - wild fight up top!
8/5 AM:  Guided Mark and his sons, Ben and Sam today starting at 6:45 am.  We tried to get this trip in last year but weren't able to schedule it.  Better late than never!  The bite today was challenging to say the least.  We had plenty of fish in numerous different areas, but I think the darker skies and full moon really had them neutral to negative this morning.  Usually with a full moon, we'll get a bite window around mid-day, but it didn't happen for us today, apart from a couple half-hearted hookups.  By the time the sun was overhead, it became obscured by clouds, which I think hurt the bite.  Either way, Ben had the hot hand and landed three solid lakers.  Sam and Mark had some grabs and momentary hookups but weren't able to keep the fish on.  We covered a lot of water and everything looked great on the fish-finder.  Getting them to eat was the problem!  It was still a fun day to be out. Lots of boats were on the water – probably as many as you'll see on Cayuga Lake trout fishing on a non-derby day.
Ben with one
Ben with another
In the first pic, you can get a glimpse of my new Cumings Red, White and Blue rubber landing net.  I've had it for about 2 weeks now and I'm very happy with it.  It's very light, telescopic and perfect for Finger Lakes fish.  The rubber appears to be tougher than the material used on my old Cabelas/Frabill Super Magnum net.  These nets are generally much easier on the fish than nylon or even coated nylon. If you're looking for a new net, check out Cumings website.
September is a terrific trout month on Cayuga and Owasco Lakes (to name two).  I still have dates available.  I like to target pike in October and November and landlocked salmon in November and December.  Mixed-bag fishing is terrific on Skaneateles Lake in October and especially November.  Lake trout fishing holds up on Cayuga throughout the rest of the year.