Cayuga Lake out of Myers Park 8/30 AM
I always have a lot of fun with George and his sons, George and Andrew, and today was no exception.  We had excellent fishing today but average catching.  By most accounts, fishing has been very good during the supermoon over the past few days.  We got underway at 7:30 am and were into a lot of chasing fish in short order.  George Sr. dropped his first 3 hookups before landing one.  He continued to have the hot hand, landing another 4 lakers and losing a rainbow around 6lbs on a jump.  Decent numbers of rainbow trout were around and chasing our swimbaits to the surface.  The guys were also pretty sure that they saw some suspended smallmouth bass chasing our baits up too. I haven't seen that in probably 15 years on Cayuga Lake, so that'd be pretty cool if indeed, the chasers were smallmouths.  George Jr. also nabbed a nice laker and lost a few as well.  Andrew had a couple grabs.  Over the past 5 or 6 years we've gone from Andrew dominating, to George Jr. and now George Sr. – someday the guys will have a day when they all do well!
The lake looks great with plenty of baitfish around.  Weedmats are still commonplace.  Water fleas seem gone for now.   Best color for us was still black, although Arkansas Shiner worked as well for us.
George with a typical Cayuga fish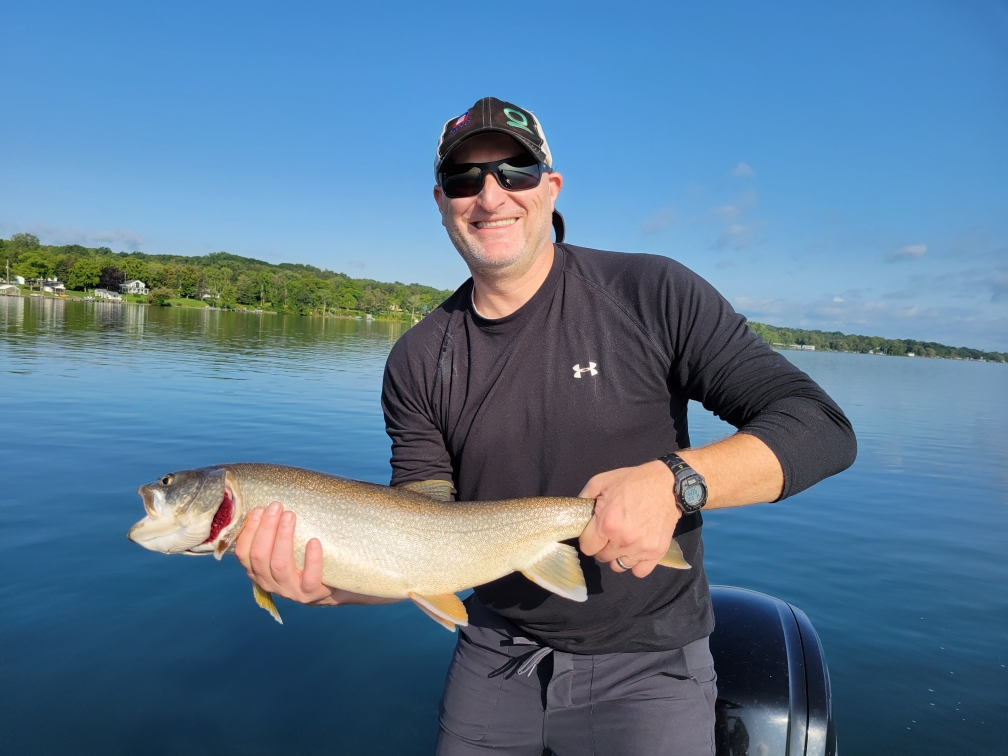 A better one