Cayuga Lake out of Myers Park 9/29 – 10/1 AM trips
This Tuesday 10/3 remains available for a full or half-day trip.  I also still have this Saturday open as well as plenty of open dates from 10/15 onwards.  Lake trout action on Cayuga Lake (and Owasco Lake) holds up right through October.  Keuka Lake really picks up in October and goes right through the winter.  I expect good pike fishing on Seneca and Owasco Lakes starting around 10/15 depending on the water temperatures.  Skaneateles is also a great bet from here on in through November.  Landlocked salmon action generally picks up on Seneca Lake around mid-November.
Fish are ready to spawn on Cayuga Lake and I expect propagation netting to begin tomorrow afternoon (Monday.)  I don't think it will take more than a few days for DEC to get the fish they need.  Areas around Taughannock Park are absolutely loaded with ripe fish.
9/29 AM:  Guided Paul and his wife Cindy for a half-day trip starting just after 8 am.  Cindy's birthday is around the corner so to speak, and they hadn't been doing much fishing thus far this season having been busy with other things.  We had a pretty slow start to the day, although Cindy managed to nab three or four nice fish in short order.  A little front came through with light rain and for whatever reason, the fish really activated afterwards and we wound up having a great double-digit day, with some nice fish landed.  Fish came on Alewife colored Shakers, black swimbaits and also white.  Terrific day!
Paul holding one
Cindy with a big one!
9/30 AM:  I didn't realize we had a full-moon going until someone mentioned it to me. It may have negatively impacted the bite today.  I'm not sure – we also had some low hanging fog and cloud cover that really messed with the light penetration.  Anyhow, I met Rob, his girlfriend Megan and their friend Cali at the launch just before 8:30 am.  Rob was one of my Cornell Fly-Fishing students back around 6 or 7 years ago.  He's a heck of an angler and fishes all over the world.  Cali has fished with us a few times and Megan is just starting to really get more into it.  The fishing certainly wasn't fast and furious this morning.  We had to be patient but eventually the fish came through.  Cali really had the hot hand today, but Rob caught a 31″er and another fish and Megan wound up getting a nice one around 27″ or so.  We had one bleeder that I am enjoying for dinner this week.  Overall we had a great time today.  Fishing was decent and the weather/scenery was spectacular.  Colors are really starting to change in the region and the next few weeks should be peak foliage.  We're still a week to 10 days away from peak, but it's on its way!
Cali with a nice fish
Megan with one!
Rob with his 31"er. Friends enjoying a great day on the water!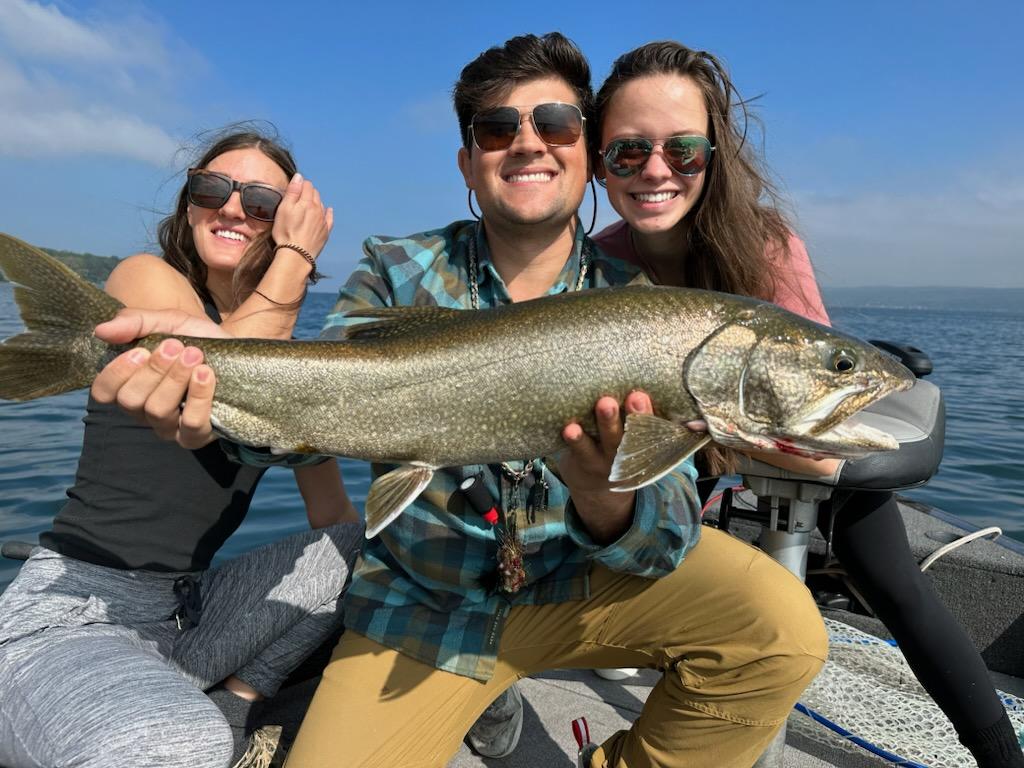 10/1 AM:  Today I guided Derrick and his son Aaron, who joined me back in late-June for a decent, but somewhat tough day on Owasco Lake.  We were going to take a run up north this morning, but there was a lot of fog up there, so I decided to fish the guys closer to Myers/Taughannock.  The bite was tough for the first hour with some tail bite-offs, signifying neutral to negative fish.  Every time I was ready to move the guys, Aaron would wind up hooking a fish.  We wound up only fishing maybe a mile from Myers and the guys had a banner double-digit day!  The fish really turned on for most of the morning after maybe 9:30 am and they caught them right up until we called it quits.  Fish were dripping eggs and milt – they are ready to spawn!  We had a bunch of beautiful, clean lakers today.  The guys kept a couple for the table and one of the fish had been feeding a bit.  Best colors were Limetreuse and white/chartreuse tail.  Great day on the water!  Surface temps remain around 68 degrees.  We had our best luck in around 100′ to 130′ today.
Aaron on!
Derrick on!
Aaron with a fish
Derrick with a solid!