Cayuga Lake/Owasco Lake 6/23 – 26
Did another run of guided trips – it's been a busy June.  I have a couple more trips scheduled this month and then we're into July.   The big news this week is the thermocline setting up.  I'm sure it's now established throughout the Finger Lakes.  When the thermocline first forms, fishing can be a bit tougher.  We also had a stubborn high-pressure system overhead the past two days which made for a slower bite at times.
6/23 Cayuga Lake out of Long Point:  I guided John today who resides in North Carolina and Florida.  He was up here on vacation and I booked a last-minute trip with him.   We had a good start to our day with a decent number of hookups that unfortunately didn't stay attached.  He kicked things off with a small laker then we tried some other areas.  We had a good flurry a bit later in the AM and wound up with a total of four lakers.  It was a slower day than what I'd been experiencing lately, but that's part of fishing.  John's a very experienced angler and is very well traveled.  He regaled me with plenty of interesting fishing tales.
John with a solid lake trout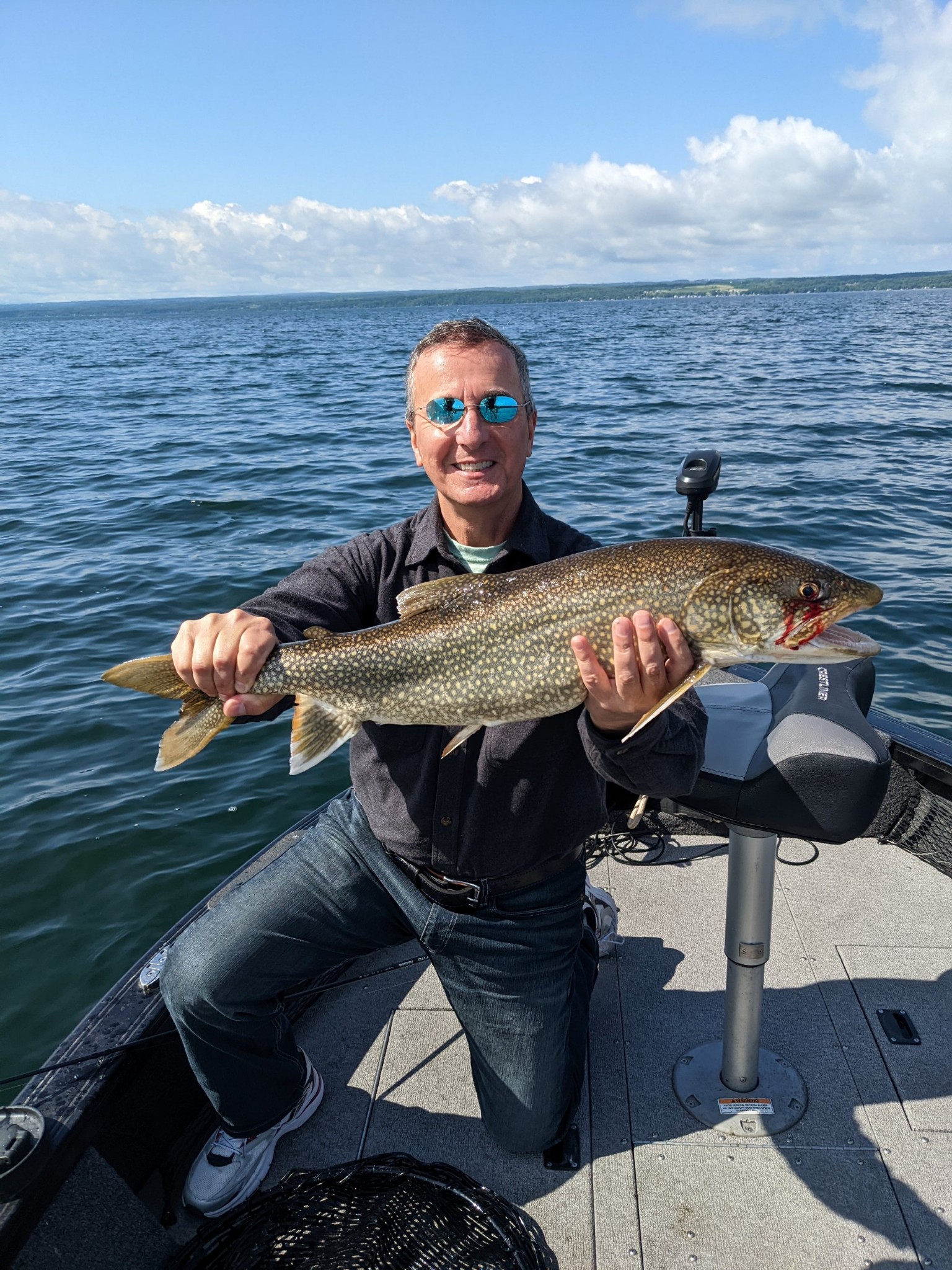 6/24 AM:  My morning trip (out of Long Point) was with Jamie, his wife Denise and their son Brody.  Jamie loves to jig and is a top-notch jigger.   We had a fair bite in the morning (we started at 7:30 am) and then the bite really picked up around 11 am.  We had a solid double-digit day with everybody catching their share of fish.
6/24 PM:  Guided Dan and Bill, whom Dan rents a place from annually on Cayuga Lake.  I've spent many a day in the winter, spring and late-summer/early fall fishing right around Bill's beautiful property on Cayuga Lake and it was great to finally meet him in person.  We have so many mutual acquaintances that it isn't funny.  Dan kicked things off with around four nice fish in a row and after that we worked on making sure Bill got his technique perfected.  Bill landed another three fish for a pretty solid afternoon half day.
Bill hooked up
Bill with dinner!
Bill is very involved in conservation/land preservation in the Finger Lakes Region and his work in this field will be appreciated for generations to come.
6/25:  Guided Dave for a full day.  He didn't want to fish too early so we met at around 8:15 am at Dean's Cove.  I picked him up via boat from Long Point, which took me a little longer than I was expecting due to the chop.  Dean's is packed these days on weekends with bass tournaments, trout fishermen (many who used to frequent Seneca Lake) and plenty of other anglers and recreational boaters.
I hadn't guided Dave in probably 12 to 14 years, though we do keep in touch on occasion with news regarding Seneca Lake.  He has a beautiful house over there and that's where he keeps his boat.  He hadn't stung many lakers in a while due to the slow fishing of the past four years over there, so it took a little while to get acclimated to not over-working these fish.  The first few he hooked were dropped and then we finally got one in the boat.  Our bite really slowed down by 10 am and we spent the next few hours having some chases and light hits if anything at all.  It was a beautiful day and he got a good tour of the lake.  This is the time of year I typically work a good portion of the lake and will often launch out of Myers depending on where my client is coming from, the wind and recent fishing success.  I had a few texts from various friends on the water and my friend/client Dave had a great morning in another area that I hadn't worked on the day, so we motored over.  The bite remained slow but right around 2:30 pm I started seeing some encouraging signs of life.  Dave wound up landing another 3 lakers and a 19″ rainbow.  Great way to end the day!
Dave hooked up
6/26 Owasco Lake out of Emerson Park:  With the tougher fishing of the past two days on Cayuga Lake, I figured it was time to give Owasco Lake a shot.  Cayuga Lake has been very busy with anglers and I generally do not care to fish/guide around other boats if I can help it.  As a guide, you have to do what you have to do – i.e., produce fish, but if I can get clients away from other boats, that's what I try to do.  My rule of thumb is that if someone's electronics start to "cross-talk" with yours, you are too close to another boat.  With 360 degree and forward-facing sonar, we may see a lot more of that in the future, but with regular "below the boat" sonar, anglers should stay far enough away from each other so that the sonar signals don't interfere.
Fishing wasn't easy on Owasco Lake today.  We started at 6:30 am and had a slow pick of lake trout.  I covered a lot of water today.  As usual, a few fish were dropped and we had some chases from non-lakers.  Ron wound up landing three nice lakers and a beautiful 25″ rainbow trout today, which really made the trip.  It fought great and we were lucky to get it in.  Boat traffic was heavy out there and the launch was very busy by the time we got back in.
Ron with a gorgeous rainbow!