Lake Ontario out of Fairhaven State Park 5/18 PM
Just had my boats inspected by the NYS Parks Department's Public Vessel program this morning.  The inspection was done earlier than expected, so I had the afternoon to fish.  The Lake Ontario nearshore forecast from NWS called for calm seas going to south winds at 6 mph and waves under a foot.  As I arrived, the lake color suggested differently!  Usually I like to fish out of Oswego this time of year, but decided a change of pace would be nice.  I am not very familiar with the nearshore area from Fairhaven west to Port Bay, so that was one reason to go.  No $10 launch fee was another.  No extra driving through a small city either.  Of course, it wound up taking me just about as much time to go to Fairhaven as it does Oswego, but that's just the way it goes.  It's been so long since I was here, I'd forgotten.
I had gear for casting brown trout/smallmouth bass as well as lake trout jigging stuff.  The lake was pretty rough the entire time I was out.  I had solid 1′ to 3′ waves.  I wound up marking quite a few lake trout along with what appeared to be good numbers of King Salmon.  I just don't think they were seeing my jigs!  I had more shots at Kings that I have probably had during any early season jigging trip, but I just couldn't stay on them.  They were moving fast.  Why were they there?  I had 53-degree water on the surface and high 40s/low 50s down to around 60 feet!  We basically had very warm water on the southeast shore of Lake Ontario.  One good wind switch and that warm water will be gone along with the fish!  It's just the way it goes when fishing a volatile Great Lake.  It was a fun day, albeit chilly and a good learning experience – I can't ask for much more than that!
Lake Ontario is looking somewhat high at Fairhaven!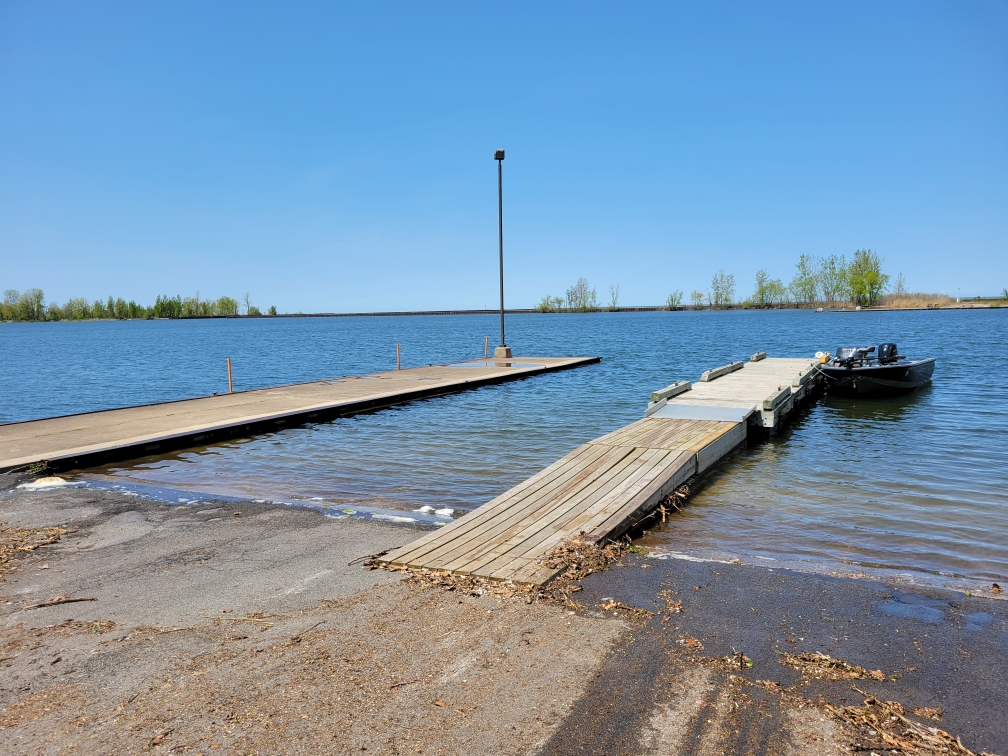 Fairhaven State Park is easily one of the nicest parks along the south shore of Lake Ontario.  There's ample camping, a nice warmwater embayment that offers good pike/bass and panfishing, a pond that's good fishing for pike (at times) and bullhead/bowfin and plenty of nice scenery.  The entrance road into the park is probably almost a mile long!  It's a big park!