Otisco Lake 10/6 AM
Did a 1/2-day trip with Kevin and his buddy Drew targeting tiger muskies.  Kevin and Drew generally book a trip every year with me around early November.  In years past, we've targeted everything from pickerel/bass on Cayuga Lake to pike on Seneca Lake, as well as mixed-bag fishing on Skaneateles Lake.  This year, due to scheduling conflicts, the guys booked in October instead of November.  I talked to Kevin on the phone 5 or 6 days ago and he wanted to try Otisco Lake for tigers.  We tried doing this a couple years ago and we had tough conditions – sun and a fairly windless lake.  Drew managed a dink tiger and we may have had a bass or two and that was pretty much it. Kevin had a few small tigers chasing his lures, but to no avail.
This time, I thought it was a great call!  We had a big front moving through on Friday with good wind and overcast/rain in the forecast.  Perfect musky weather!  Kevin and Drew fish hard and always have a good attitude, which helps a lot.  I do very occasional musky and tiger musky trips these days.  Usually I mainly guide Mark I., who attempts to get these fish on the fly-rod, which can be very challenging, but Mark enjoys a good challenge!
A good number of bass boat trailers were in the parking lot when I arrived just before 8 am.  Most were from PA.  We got underway around 8:15 am.  I had the guys work a combination of areas I often fish as well as areas I don't.  We were able to cover miles of water today with our quick drift and I got a good feel for what the lake conditions were like.
Drew picked up the first fish on an X-Rap (I brought those so we would have a shot at different species.)  It was an 11″ smallmouth.  Maybe a half-hour later, Kevin felt some good weight on his spoon and set into a beautiful tiger!  It fought great with some good "juking" and then some tail-walks near the boat.  My esocid gloves were in my other boat, and Kevin left the ones he brought in his truck, so I carefully got the fish out of the net and Kevin posed for a couple quick shots.
We got into what appeared to be a promising stretch of water and Kevin had a follow from a typical small tiger around 20″ to 24″.  Drew then set into a big fish!  I saw it and knew he had a slob on!  It took out quite a bit of line and I had Drew really put it to the fish.  Great battle and I slipped the net under a beauty!  I (very carefully) got the fish out of the net onboard after keeping it in the net in the water as we prepared our cameras.  We took a quick shot of me holding it, and then Drew had his first opportunity to hold a real big tiger!   He did a great job and we got some nice photos before a quick measure and release.  We had 44″ and thick – the fish clearly had to be over 20lbs.  Afterwards, Drew had another hit and landed a 17″ largemouth.  We finished the day with Kevin (now the dinkmaster) catching a small bluegill that whacked his spoon.  Terrific day and one we'll never forget!
Drew, back when he was known as the dink-master! (This fish was from 2020!)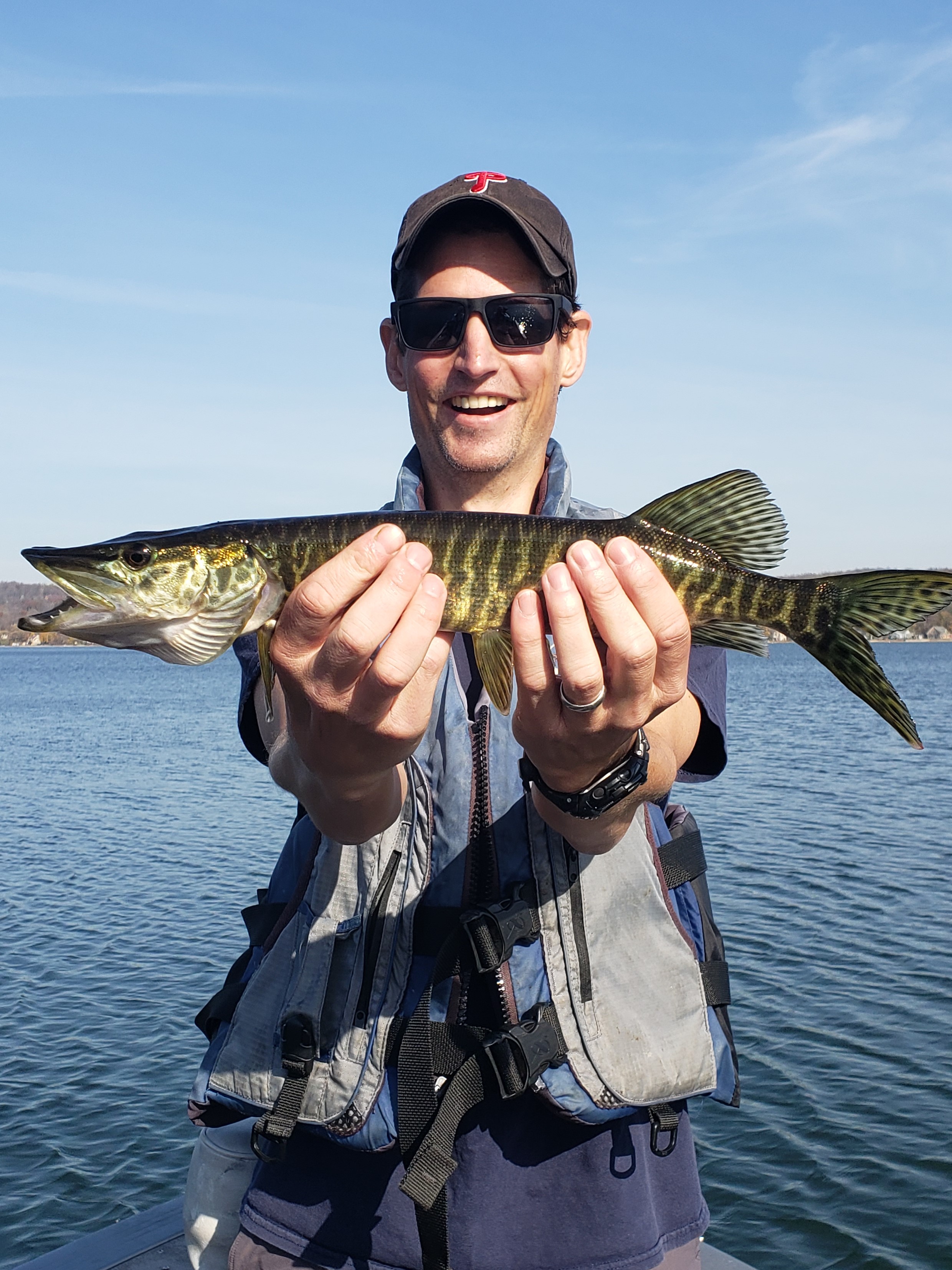 Kevin's 35" tiger (and yes, Kevin is a big guy!)
Another angle of Kevin's fish - showing some teeth!
Here I am holding Drew's mambo, before carefully handing it over to him!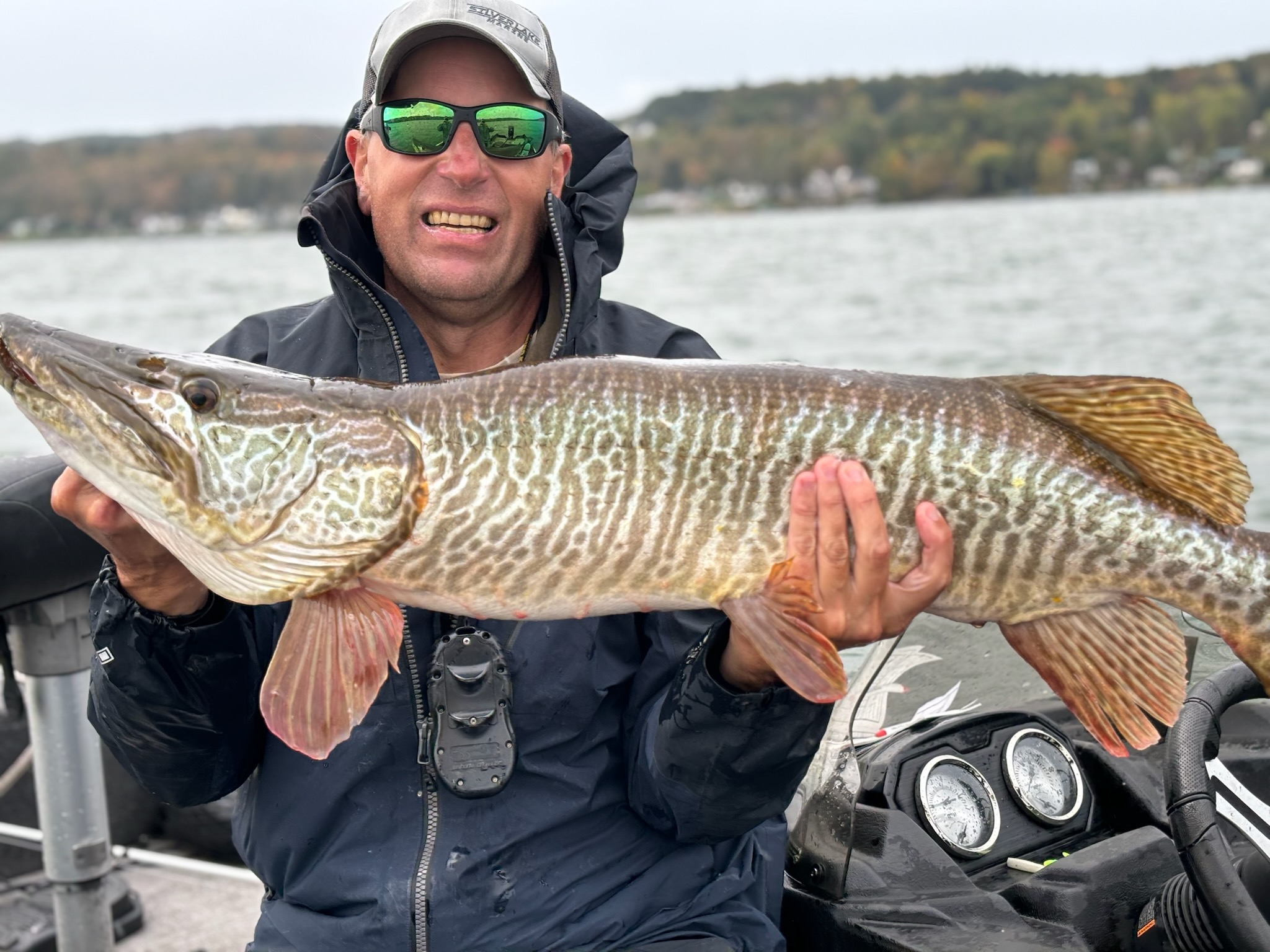 Drew with his beast!!!
Drew's largemouth
Kevin, now crowned as the dink-master!
Tigers and muskies in general can be weird and frustrating fish to fish for and certainly to guide for.  Being apex predators, their numbers are typically low.  They generally do not need to feed very often.  They often will feed during somewhat predictable times with moon-phase and the weather conditions.  The biggest tiger we've taken on Otisco Lake came on a fairly flat day in the middle of the day.  We hadn't seen a fish all day long until my client Linn caught the fish just as we were literally putting our gear away.  These fish require a decent amount of angling skill, patience and perseverance to successfully target.  I much prefer to guide pickerel with novice anglers or people who just want a lot of action.  Pike are probably my favorite to guide, since they usually offer much more action than musky fishing but are also larger than pickerel and hit hard.
Lastly here, I have to give a "shout-out" to Bryne Dairy.  My client Dave Figura brought one of their sandwiches onboard a month or two ago and it looked every bit as good as the one I've seen on their billboards.  I've had the hot Reuben and Pastrami, and both are fantastic.  For a place that doesn't have a grill and just heats them up, everything has been beyond expectations.  They are made quickly; the ingredients are top-notch, and the price/portion is very reasonable.  The donuts are great as is the ice-cream and overall amenities.  I think we're very lucky to have their stores spread throughout the Finger Lakes Region.