Otisco Lake 11/2 Midday
Guided Greg here for a half-day starting at 10:45 am.  He was hoping for a big tiger musky like the one that Drew caught back on October 6th.  It goes without saying, that a fish like that is a rare catch on just about any lake.  Only one other boat was out on the lake when we arrived.  We had snow here yesterday and a little bit last night.
We had pretty good musky conditions – overcast skies with some wind.  A couple of largemouth bass were the first fish we encountered on the day.  One was a 12-incher, and the other was 18.5″ – a very solid fish.  Greg had a couple sharp hits (that were almost certainly muskies) that he didn't connect with.  Shortly thereafter, he hooked up with his first tiger of the day, a 29″er if I remember correctly.  He didn't want a photo of that fish, although I thought it had gorgeous colors.  Maybe 10 or 20 minutes later, Greg connected with another fish.  He thought it was another similarly sized fish, but the rod was really dipping down.  I knew it was bigger!  It wound up being a nice 34.5″ tiger that we took some photos of.  I was game to get Greg to some other areas I thought would produce, but he was good-to-go.  He wanted to fish one area on the way back to the launch that he had good fishing at during the summer.  We gave it a half-hour to 45 minutes without any action.  Water temps are around 53/54 on the surface.  Foliage is all post-peak to bare trees (for the most part.)  Lake level is good as is the water clarity.
Solid 18.5" largemouth bass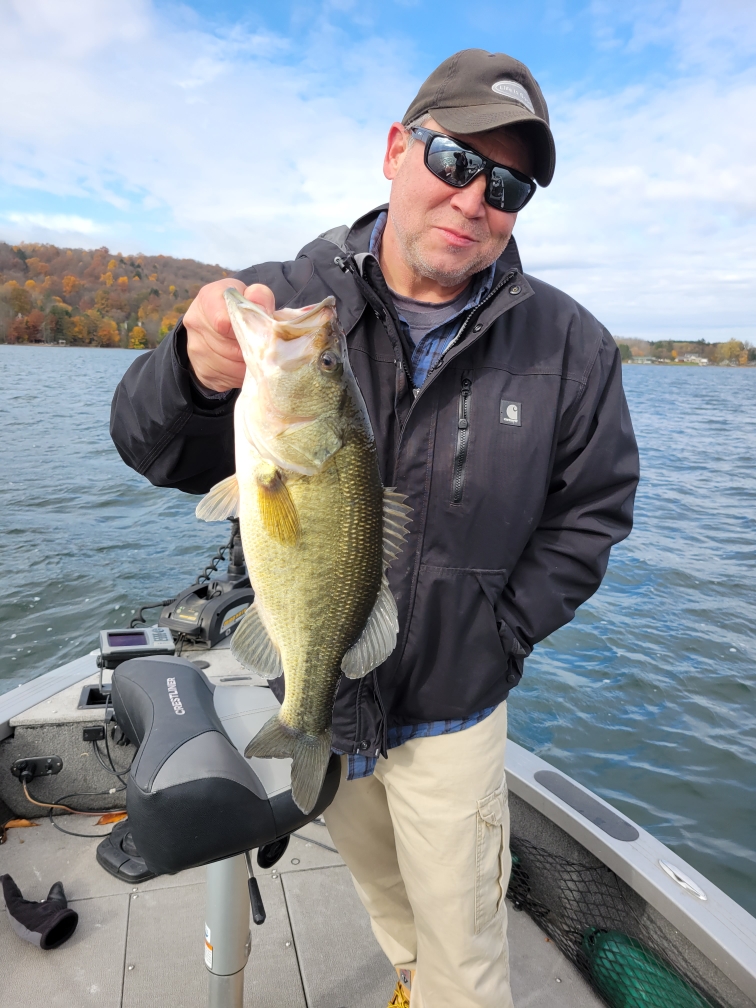 Nice 34.5" Tiger