Otisco Lake 6/13
Guided Mark I. here for a full day targeting tiger muskies on the fly.  Mark is still trying to nab his first tiger on the fly-rod.  We stuck with the fly-gear today, although I did have some gear-rods onboard.  We weren't sure if we were going to fish today or yesterday.  In hindsight, yesterday probably would have been the better musky day, with low-pressure and threatening skies, along with occasional light rain during the day.  For what it's worth, we didn't get a lot of rain in the Ithaca area on Monday.   We received enough to help lawns and crops, but not enough to do much for the streams.
Mark wound up having one small tiger chase in a fly today and it stuck around but did not hit his "figure 8."  He might have had another tiger chase his fly, but I didn't see it.  He wasn't positive on the fish I.D.  He did have a couple chases and possible grab(s) from smallmouth bass and a large perch.  We did not see any tigers hovering around the weeds in the clear water today, which is somewhat unusual – usually we'll see a few on sunny days this time of year with clear water.  Water temperatures ranged from 67 to 70 degrees.  Plenty of pondweed was up.  Weed harvesting appeared to have started at Turtle Bay.  Many weedbeds are starting to hit the surface, although some nice pockets remain.
All was not lost today; Mark had a good hit after casting for maybe an hour.  We both thought that he might have been into a musky in the mid-upper 20″ range (maybe 25″ to 29″.)  It hit and then took him into the weeds.  After moving the boat up to the fish, in conjunction with Mark keeping pressure on it, I slipped the net under a beautiful largemouth bass that went 21″ long!  It was a personal best for Mark on the fly and a great specimen.
Terrific 21" bass on the fly!
A slightly different shot of the fish and Mark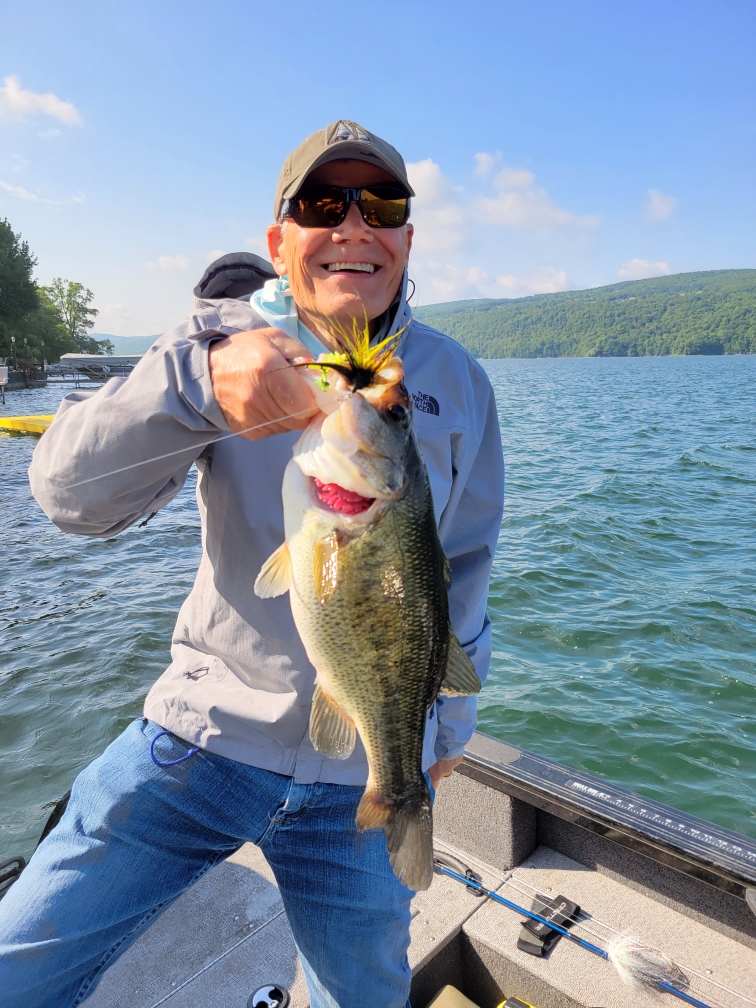 This Sunday (Father's Day) remains open for trips as does Thursday June 29th.