Otisco Lake 6/8 + Cayuga Lake 6/9
Otisco Lake 6/8:  Guided a full day here with Mark I. getting underway just before 8:30 am.  The target was tiger musky on the fly.  Mark fly-fished hard for a good 5 hours with fair to good conditions without any signs of musky.  A few bass followed his fly here and there.  The pond weed is way up and weed harvesting has begun.  Water temps were in the upper 60s.  Alewives are all over the place in this lake right now.  We saw baitfish popping along shore and hundreds, if not thousands of alewives infiltrating weed pockets.
Mark went to gear and hooked and landed a hard fighting 31″ tiger musky in about 20 minutes!   He saw one other fish and went back to the fly without luck.  Later in the day he picked up a small largemouth bass on gear.
We saw a shoal of mudding carp along a point and decided to give them a try for 1/2 hour to 45 minutes.  I figured it might be relatively easy to get a grab or two, but these fish were tough!  We played around with some different flies.  Sometimes when Mark would perfectly place a fly in front of a carp, a bluegill would rush in and grab it!  He wound up catching 4 or 5 bluegills while attempting the carp.  Some carp appeared to move for the fly but it was hard to tell.
Mark has had some great fly-fishing for pure-strain muskies on Waneta Lake.  The tigers have proven to be a challenge for us over at Otisco Lake.  I have an idea which I believe will break the ice next time, but it'll have to wait until next year.
Mark's 31" Tiger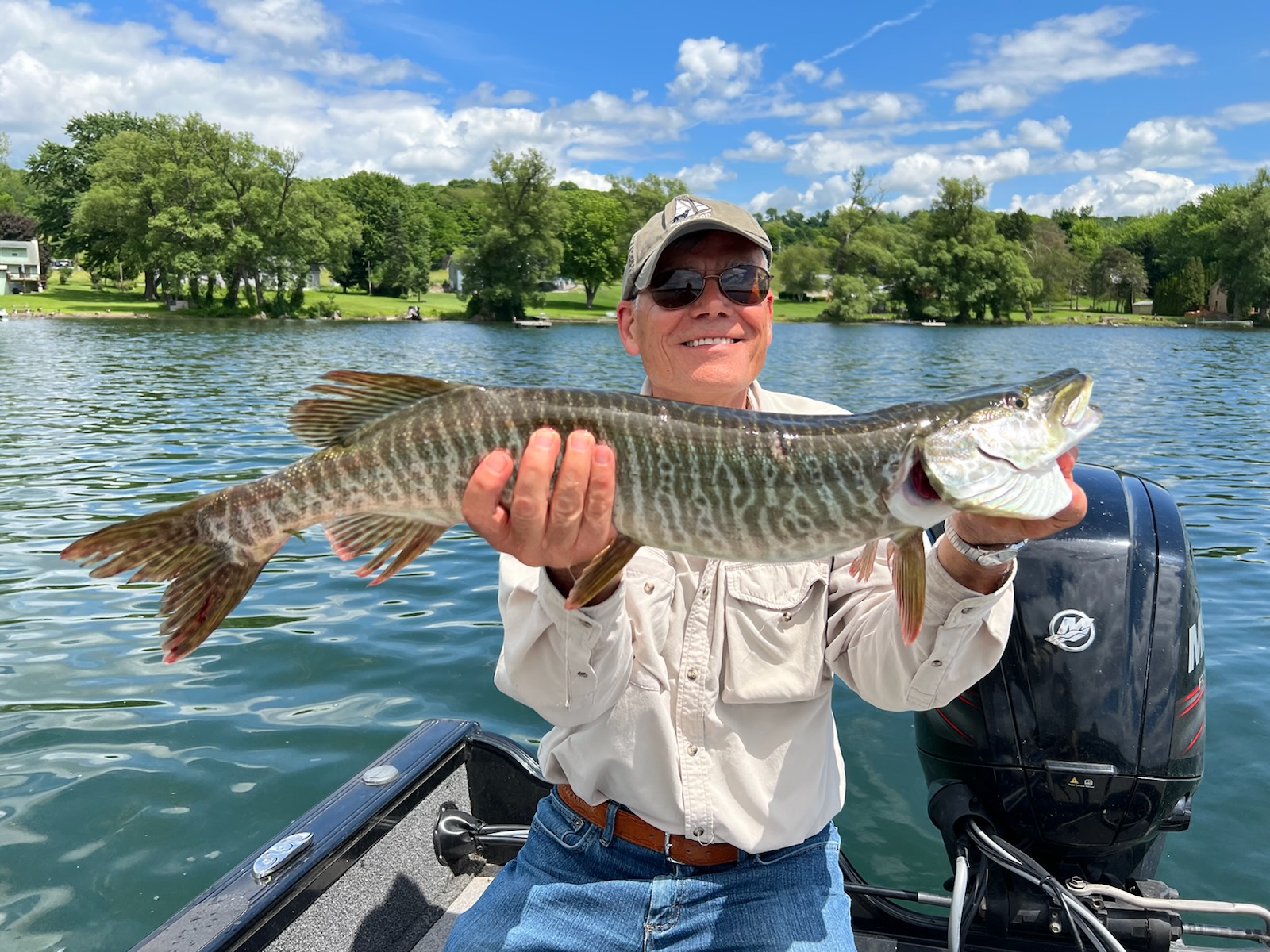 6/9 Cayuga Lake out of Dean's Cove Marine Park:  Guided Jamie and his wife Denise for a 1/2-day trip starting just after 10:30 am.  We were supposed to do the trip in the morning, but there was a lot of heavy (much needed) rain in the area, so we held off for a while.  Fishing was very good and we had a solid double-digit lake trout day anchored by Jamie's 31″ lake trout.  Fish came on a variety of Lunker City Shakers – including black, Arkansas shiner and chartreuse silk.  A white Yum Money Minnow also proved productive.  Denise managed to catch her first lake trout and another three more if I remember correctly. Fish were fighting very well!