Otisco Lake 9/29, Cayuga Lake 10/1 – 10/2, Owasco Lake 10/3 AM
Otisco Lake 9/29:  Got out here for the second time this year, again with Mark I. targeting tiger muskies on the fly.  I'd like to fish here on my own once or twice this year but haven't gotten around to it.  When I've had days off, the weather either hasn't cooperated or I've been busy with other things.  We had good conditions here for most of the morning and the day wasn't bad.  No muskies, although Mark raised a beauty on the fly that just didn't grab.  We usually switch to gear at some point during the day, but today Mark's arm felt great (his casting was superb as usual) so we decided to stick with the fly-rods.  He did hook a couple of nice bass and landed one 17″+ largemouth on the fly.  It was on a fly my friend Eric tied and gave me, so that was cool.  I have a fly I tied up that imitates one of my favorite musky patterns and I am going to commit to throwing it next time I get here!
The lake temperature was around 66.  Boat traffic was very light today – we maybe saw a half dozen fishermen out on the day. Foliage is starting to look really nice.  It's the most beautiful time of the year to be on the water!
A very nice fly-rod bass! 17"er.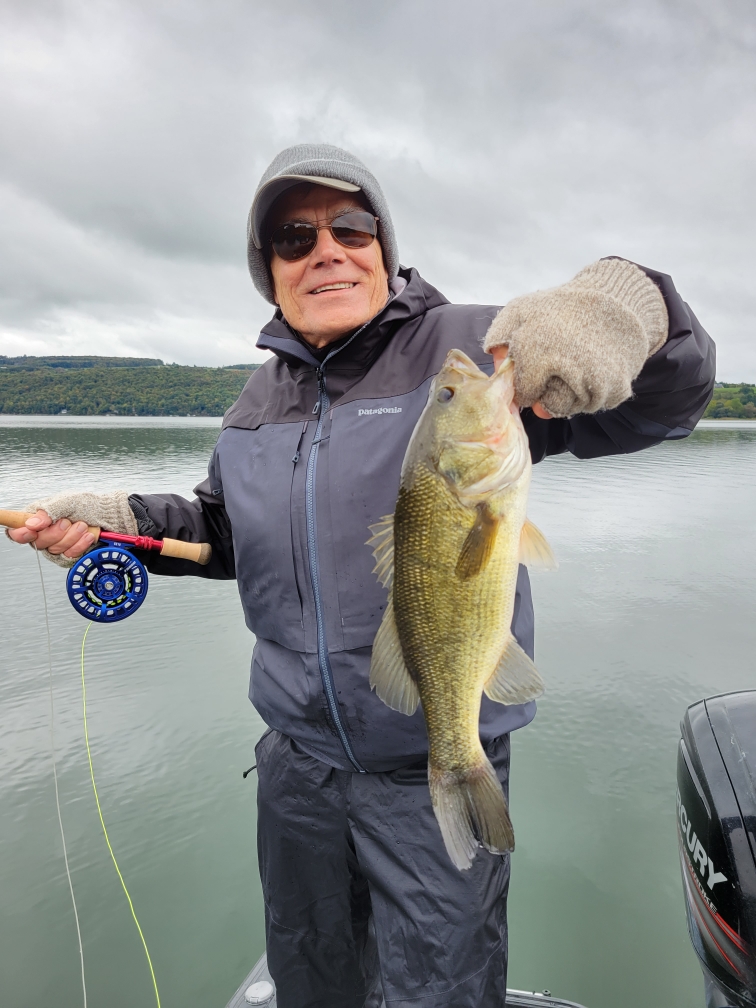 Cayuga Lake out of Myers Park 10/1 AM:  I had a terrific guided trip today with Sergei, Yuri and Saul.  It was the second time Yuri had been fishing in his life – the first time was when he was 9 years old!  Fish hit well throughout our morning.  The guys landed double-digit numbers of lake trout topped by Yuri's 32″ beauty!   That fish went over 10lbs.  Boat traffic/angling pressure was light on Cayuga Lake today.  Fish came from deep water – around 100′ out to over 140′.  White plastics worked best for us by far.
Yuri's 32"er hooked up!
The Beast!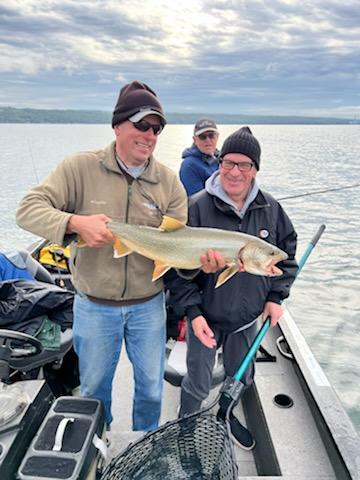 Sergei with a nice fish
Long arms and a long reach!
Heading back after a little over 3 hours!
10/2 AM Cayuga Lake out of Myers Park:  Guided Paul and his sons Adam and Dave for a 1/2- day trip starting at 7:45 am.  The guys were out with me back on 5/28 in the morning on a trip where we dealt with a bit of rain.  We made out alright on that trip, although the fish were fairly scattered.  Today the guys really hammered the lake trout.  We had the best day this year that I've seen in terms of the size of the fish.  The top three lakers landed were a 33″er, a 32″ and a 30″ or 31″ if I remember correctly.  We had solid double-digit fishing with at least one double hooked.  Fish came deep!
Adam with a 33" beauty!
The guys kept 4 or 5 fish today.  They are feeding heavily in anticipation of the spawn.
10/2 PM:  Guided the Hermans for a half day.  Over the past couple of days, the lake really kicked up a bit around noon.  Yesterday, it kicked up at around 10 am, got rough for a few hours, settled down, then really got windy.  Today the wind kicked up just as I took Paul's crew back in.  I picked up the Hermans from Taughannock and we stayed near the point.  John and Eleonore hooked a few fish and landed two, at which time the lake calmed down.  I decided to run them to my AM area – I hoped the wind would do what the forecast called for and not be a repeat of yesterday.  I was wrong!  Halfway there, the wind really started hauling!  We were halfway to our destination, so I kept us running.  We wound up having a tough bite which was in all likelihood due to the heavy wind and cloud cover.  We gradually worked our way back to Taughannock and a couple more fish were landed and a couple more lost.  Tougher afternoon of fishing, but it was still productive.
John landed a 26″ lake trout that was gill-hooked, so I kept it.  I made a batch of lake trout chowder last night.  I hadn't made any in a while and had forgotten how good it was!  Man, was it fantastic and the perfect food to complement the end of a long day on the water with cold conditions.
Foliage looks great on the lakes!  It's not peaking yet, but still looks spectacular.  This may be the best fall in 20 years for "leaf peepers" out there with the cold conditions and lack of wind (that tends to blow the leaves off the trees.)
Eleonore aka "Boo" hooked up
John hooked up!
10/3 AM Owasco Lake:  Guided Bill and his friend Gary today for a half-day.  Bill was last out with me back around 2008.  He's a longtime copper-puller and wanted to learn the jigging.  He still really enjoys copperline trolling.  I ran into him a few months back at Long Point and he decided on a trip on Owasco Lake – one of his favorites.  We had a great morning of fishing with double-digit hookups and 8 fish landed.  One of Gary's lake trout was incredibly fat – it was 27″ long and went around 9lbs!  I wish I could remember the exact weight, but it was heavier than a 31″er I weighed from Cayuga Lake recently.  Foliage was striking to observe today!  We were the only boat that we could see on the lake all morning long!  Gary regaled me with tales from his Navy days living and working on a submarine.  He could write a book!
Gary with a 27" slob!