Owasco Lake 11/16 AM
Guided Larry and his wife Jenn for a half-day trip starting just after 8:45 am.  Larry has asked me on occasion about muskies/tiger muskies and I thought it'd be a good idea to try some pike fishing first.  Larry had never caught a pike before, and Jenn has been getting into fishing recently after a long layoff.  Larry picked today after seeing the advanced forecasts last week.  Today didn't look like much of a pike day on paper – we had bluebird skies (clear), and light winds, which were forecast to diminish to calm conditions.  Some forecasts had calm conditions going to light winds.  Either way you looked at it, it wasn't encouraging for targeting a low-light ("crepuscular") predator like northern pike.  I figured we could fish smallmouth bass or lake trout as a back-up.  Either way, it'd be a good "brush-up" day for Jenn, and I'd get both of them up to par on techniques for northerns, musky and bass.
My demonstration cast with a stickbait resulted in a school of nice-sized perch following in the X-Rap.  Oddly enough, we didn't see any more perch until towards the very end of our trip.  We worked one area without any hits for bass or pike.  My second area looked like it'd be a bust as well until Larry had a hit, kept reeling then his rod loaded up!  He was hooked up to a nice northern!  I figured around 32″ long which is a common fish here.  The water is as clear as it gets, and it looked to be about that size – little did I know!  The fish was fairly deep which made it appear small.  I had Larry really put it to the fish and it fought well.  It was so large, it wouldn't go into my normal lake trout/summer fishing net.  I tried twice and we finally netted it.  What a beast!  It was probably the heaviest pike I've dealt with here in the Finger Lakes (or elsewhere for that matter.)  We had 41″ and fat.  We took a couple quick photos and let the beast go.  Later on Larry nabbed a 25″er before our bite went dead.
We tried around an hour of bass fishing without luck.  We also tried some lake trout jigging and Jenn came close to hooking a couple – they were following her intensely, but just wouldn't hit.  Towards the end of our trip, both Jenn and Larry nabbed small perch on their jerkbaits.
All in all, a terrific day!  Water temps are at 50 degrees.  The lake level is low but launchable up north.  We also saw a bald eagle, which was cool.
My buddy Todd fished lake trout on Cayuga Lake today and had a good day, catching fish in numerous areas.  Most were running on the smaller side (22″ to 24″) but he managed one giant that he guesses at 10 to 12lbs.  He reports loads of loons on Cayuga Lake right now – he saw at least 30 of them, which is cool.
Nice fish there Larry! Great first pike!!!
Here's a shot of Larry and I, just before I showed him how to hold it!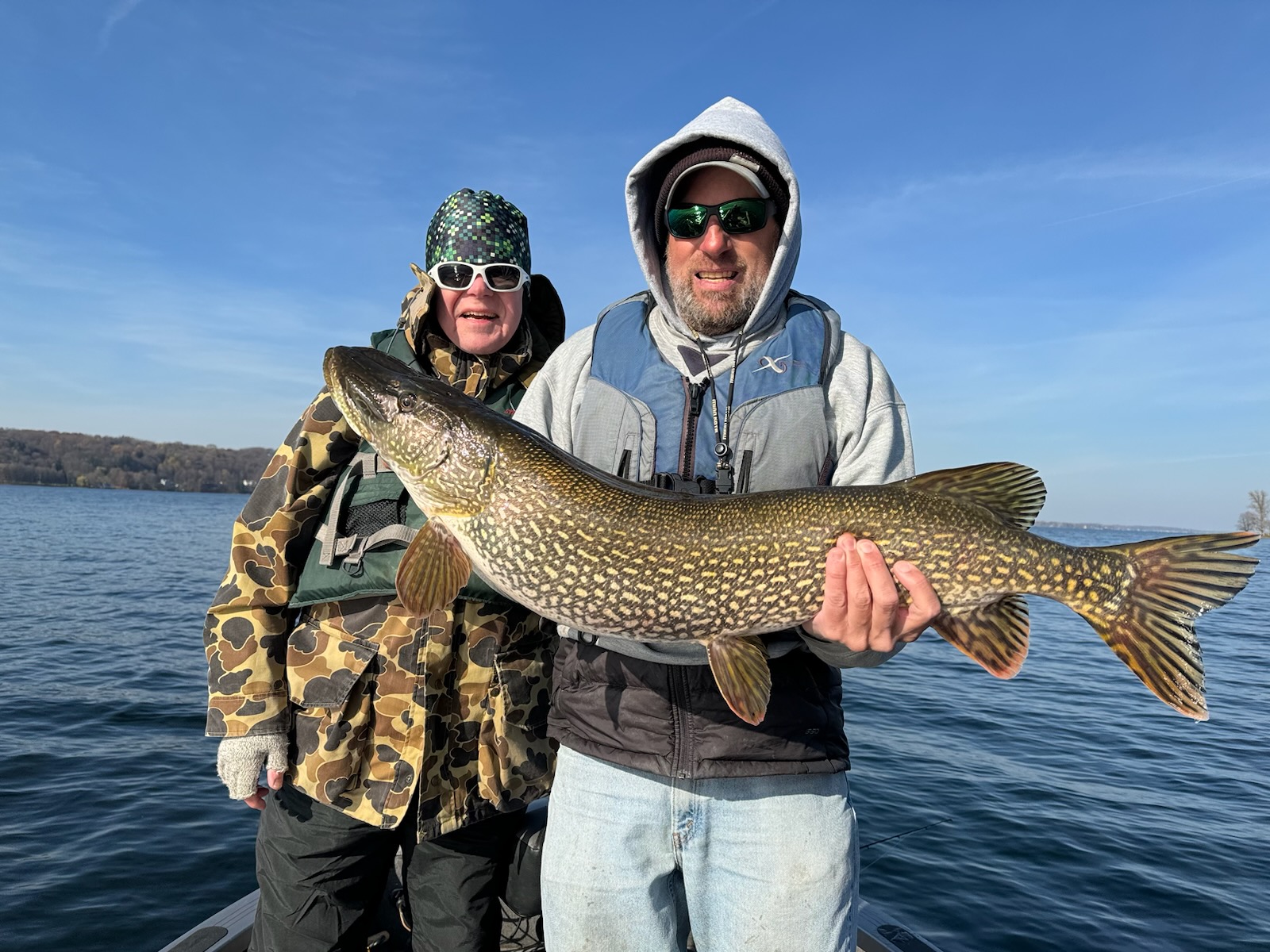 Bald Eagle in a tree - not an uncommon sight if you keep your eyes open!