Owasco Lake 7/13 – 15
Guided three consecutive days on Owasco Lake out of Emerson Park.  Fishing ran the gamut from fair/good to excellent.  By the way, I still have Sunday the 23rd and the 30th open for trips this month.  A handful of dates are still available for August.  I can't believe we're down to two more weeks in July.  This year has flown by, after a slow February through April.  After the weird 80 degree plus weather in February, it seemed like an eternity until May!
Thursday July 13th:  Guided "July-Regular" Scott here for a full day starting around 6:15 am.  Over the years, we've done trips on Cayuga, Seneca, Owasco, Skaneateles and Onondaga Lakes.  Scott was hoping to try Oneida Lake, but the winds didn't look good for it.  I do not consider myself any kind of Oneida or Onondaga guide, but occasionally I get regular clients that want to check out these fisheries.  I don't mind a little variety now and again.  Scott's dad has a place on Skaneateles Lake.  Shockingly, he tells me that the Hex hatch is still going on over there!  Bass fishing was great a week ago, but was tough for him this past week.
Scott's son Joseph joined us for the morning targeting lake trout.  We had a fair bite.  We had to move around a bit and the guys caught five nice fish including two beauties that Joe landed.  A few were dropped as usual.  After dropping Joe back off at Emerson Park, we headed back out to try some smallmouth bass fishing.  Unfortunately, the winds really kicked up into the 20 mph plus range.  Scott had a hit or two and a couple of follows, but no great bass opportunities.  Strong storms moved in just to our west and we got off the lake with 15 minutes of so to spare before some torrential rains moved through the area.
Joe with a 28" plus fish
This one might have been a 30" - can't remember!
Scott hooked up!
7/14 AM:  Guided Greg today starting just after 6 am.  I'll be seeing a lot of Greg this season.  Oftentimes we try to chase browns, but this year he at least wanted to start his jigging season by catching some lakers, and that's what happened.  Lake trout fishing for us thus far this season on Owasco Lake has generally been good.  We had a tough start with the steady, stormy weather, but since then the angling has really picked up.  A couple of the mornings have been superb, and today was another one of those!  It was one of those "expect a hit every drop" mornings.  He missed/lost a lot of fish – some of which may have been biting short, but wound up with a great double-digit morning with three fish in the 28″ plus range.  Fun morning and the bite quit on us around 9 am.  I would bet that it started up later on, but we wrapped up after just over 4 hours.  White with a chartreuse tail was best although we also had hits on dark blue with a pink tail as well.  Hard to say if it really mattered!
Greg with a beauty!
7/15 AM:  Guided Joe and his son William for around a 6-hour day today.  We were planning on a half-day today and one tomorrow, but Joe decided just to extend today's trip a bit.  We got underway around 6:45 am.   The guys had to do a bit of driving last night and weren't up for a 6 am start.  We had some hits and hookups right away, but then couldn't get anything going.  A LOT of baitfish were around and William even snagged an alewife on his jig!
We moved around a bit and a couple more were missed/dropped.  Finally William hooked a solid, and wouldn't you know it, Joe doubled up!  It was great getting the "Skunky" off our backs in that way.  We kept at it and had a couple more misses/drops and then William came through with two more, so it was a tougher day than yesterday, but still wound up alright.  Boat traffic picked up as the day went on, but never got too bad.  It was nothing like a week or two ago!
The results of a double!
William with another!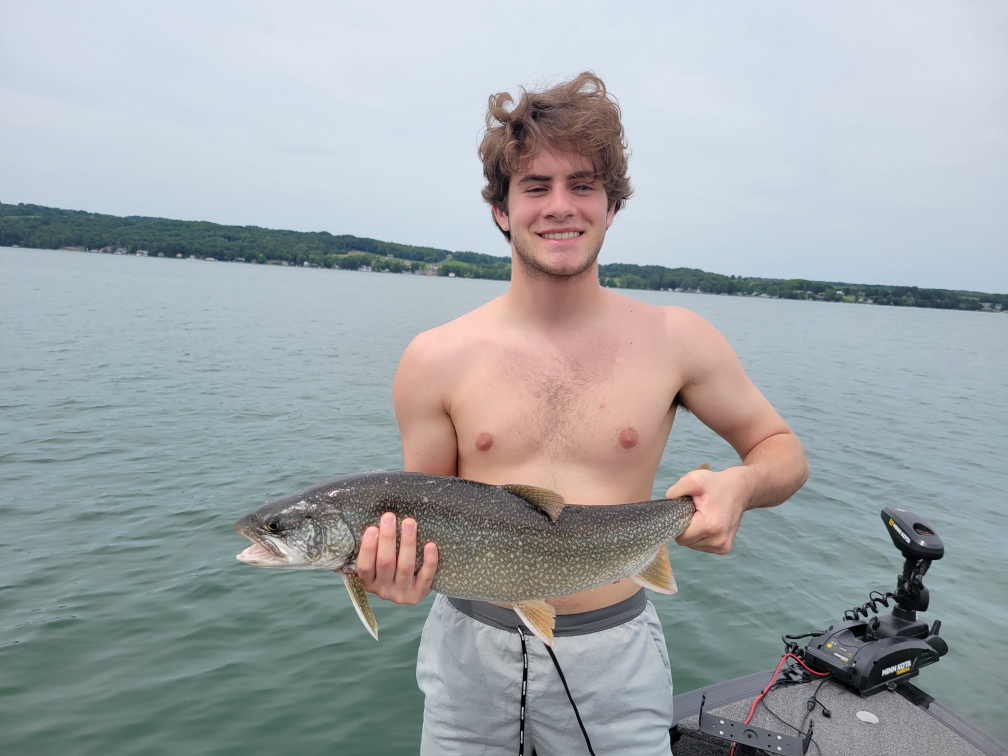 Joe and I go way back together to around 2012 or so, when we met at a "Furthur" concert in Rochester.  It's a funny story and I enjoy telling it to clients onboard.  He's very successful and now has an office right in Penfield NY around 3 miles from where I grew up.  Joe lives downstate and is friends with a guy I went to Junior High School with.  It's a small world.
The big question most people have asked me recently is "how is Cayuga Lake fishing?"  The clarity there is awful for the most part.  What I tell people is that any time we get a strong blow, the winds will move algae out.  A good westerly can clear out the west side of the lake near Dean's or Sheldrake or further south.  A good southerly can clear out the algae on the south end, near the Power Plant, by Sheldrake and also over by Wells College.  Northerlies can clear out the Silos area.  It's no guarantee, but hopefully that will help.  The bite overall on Cayuga Lake for lake trout has been very tough this week.  You may find a day here or there, or a bite-window when the fish are hitting, but most of the time it's very difficult fishing.  Seneca Lake is fishing very well, as is Owasco Lake.  I'm happy to do locational tutorials on those lakes for those unfamiliar with them.  We have been living with these blooms now for around a half-dozen years and I don't see things changing.  The additional light penetration that the mussels are causing is giving the algae what it needs – sunlight.  Hopefully the bloom will run its course and be done within a week or two.  Cool weather also helps. We shall see!