Owasco Lake 7/6
Guided Riley from Connecticut today for a full day.   I've guided him and his brothers quite a few times before as well as his father, uncle and cousins.  They have a place on Skaneateles Lake and help to keep me informed regarding the fishing over there.  Today he wanted to split the day on trout and smallmouth bass.
We got underway at 6:45 am and I had a good feeling about today.  With the mild front pushing through last night and plenty of scattered light showers and cloud cover, conditions looked promising.  He hadn't caught any fish dropshotting before, so we tried some of that tactic near the launch.  A lot of rockbass cooperated.  Nothing notable, but at least it helped with getting a feel for the technique.
Large numbers of lake trout and heavy schools of baitfish were the order of the morning.  Our first area produced a few lake trout and our second area was exceptional.  He was into double-digits of trout within 45 minutes, including 4 fish landed and one lost on five consecutive drops of a jig!  For a good hour to hour and a half nearly every drop resulted in a hit or some sort of action.  At one point a fish jumped near the boat.  When it jumped for a second time, I had Riley try reeling up his jig.  Sure enough, a nice rainbow had gobbled his jig on the fall and he never noticed (apart from the line drifting under the boat.)  Unfortunately the rainbow got off.   In another area a large brown trout followed in his jig.  Similar to last weekend on Cayuga, so many baitfish were around that Ryan snagged an alewife on two separate occasions this morning.
We switched up to bass fishing and encountered active smallmouths virtually everywhere we tried.  A lot of fish got off, but he managed to land a good half-dozen fish up to over 17″.  It was just one of those days where we had a perfect weather pattern and a great bite all day long for the most part.
Hooked up
Fish number 4 or 5....
Best laker of the day - 30"+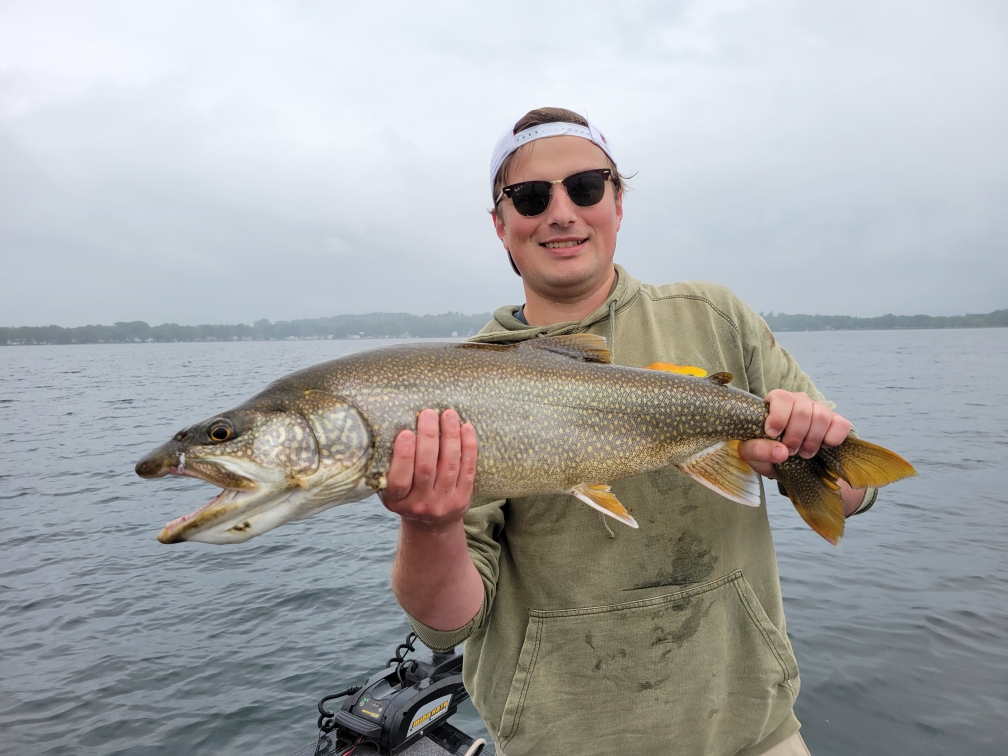 Solid Smallmouth
We had one very nice looking unclipped laker.  In all my time guiding this lake, I previously only encountered one wild fish here.  This particular fish Ryan caught today was likely wild fish #2.
This Saturday remains open for a half or full day trip.  I still have July 17th, 22nd (AM only,) 24th and 30th (AM only out of Myers/Taughannock) left for July.
I heard from a friend fishing the lower portions of Cayuga Lake today and he reported that the water was clear.  Maybe we averted the algae bloom for now – stay tuned!  I'm back on Cayuga Lake soon.