Owasco Lake 7/8
Guided Ron and his son Matt today for a full-day trip, getting underway just before 6 am.  Fishing was very good to start and then tapered off fairly sharply by 10 am, after which we landed a few more fish.  We had a good double-digit day with fish running up to 29″.  As has been the case over the past week or two, plenty of young rainbows abound in this lake and have been chasing our jigs up and down.  We took 45 minutes out of our trout jigging and did some casting for smallmouth bass.  A few good fish were missed, but they were around, although not nearly as active as they were during the 5th of July.
In July, I think fish tend to feed at night more so than in other months, with the possible exception of June.  Overall, I think morning trips are more productive.  On July 5th, we had a solid all-day bite, so everything depends on the conditions – weather being the main one.  I'm happy to do full-day trips in July, but I rarely ever book PM 1/2 days these days.  August through October on Cayuga Lake (and Owasco Lake) is often a different story and the bite can be good throughout the day more often than not.
The thermocline is set up solidly now.  We had action on lakers from around 50′ down to 85′.  Best fishing was on the shallower side of that depth range.  Best colors over the past few trips have been Chartreuse Silk, with white/chartreuse tail being a solid, but somewhat distant second place.  A few fish have also come on black and alewife patterns.
Water on Owasco Lake generally looks excellent.  There are a couple small, localized algae blooms, but nothing like we're seeing on Cayuga Lake right now.  Google the NYS DEC HABS page, and you'll see that Cayuga Lake really bloomed over the past couple of days.  Visibility is around 1′ to 2′ out of Dean's, it's maybe 3′ to 4′ around AES (but fishing is slow there) and I believe it's bad on the south end of Cayuga Lake.  All that being said, some fish are being jigged and trolled up.  Keep in mind that the algae is generally just in the top couple of feet of the water column.  Some people are still having some good fishing in the bloom, but that's been more the exception that proves the rule.
I was looking forward to guiding Keuka Lake tomorrow, but the forecast looks pretty daunting with thunderstorms starting up around 9 am.  I'm too old – I mean wise, to spend a full day on a lake dodging thundershowers!  I am out most of next week and will likely be on Owasco and Seneca Lakes.  Stay tuned!
Ron hooked up! Yes - I enjoy taking action shots!
Ron on again - don't lose this one!
Matt, try not to drop this nice fish on its head again!
Matt on!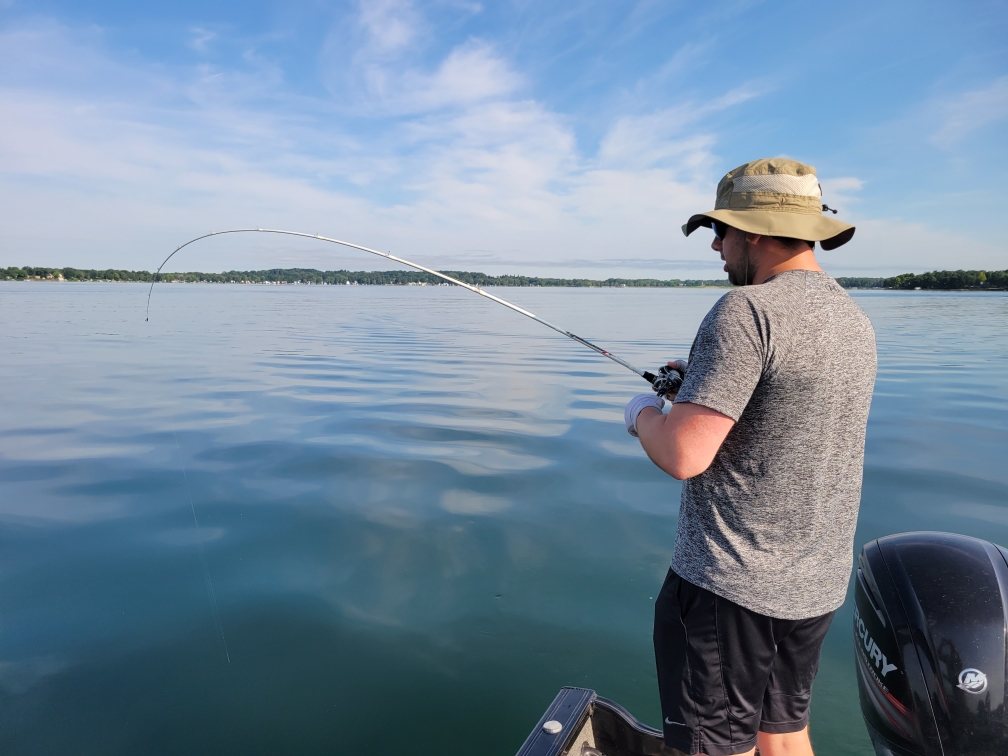 Another Zolid!