Reports 10/14 – 10/18
Water temperatures throughout the region are now in the upper 50s.   Fall foliage remains in peak condition – in some areas it's post-peak and in others it hasn't peaked yet.  High winds are starting to dump leaves into the lakes.  Lake levels remain low.  Boating traffic is low but fishing pressure remains high on some lakes.
10/14 Keuka Lake out of Keuka State Park:  Got out here with my buddy Mike for a day of lake trout jigging and some smallmouth bass fishing.  From the number of rigs in the parking lot, I'd have sworn it was a Saturday in July and a bass tournament was going on, but nope – it was just a typical weekday circa 2020 on Keuka Lake (according to the park employee I asked.)
Winds were swirling out of the west, which is always a pain in the butt on the Finger Lakes.  We set up for lake trout and had some decent fishing.  There were a lot of fish in the Branchport Arm of the lake.  We nabbed four lake trout anchored by my 24″er.   What these fish are eating is a mystery to me, but they look just like they always have – not plump but not skinny (or "Skanny" in reference to Skaneateles Lake) either.  Later in the day we fished the bluff for a half hour and did not mark many fish.  Mike caught a 25″ fish there!  What it the heck are they eating???   These fish continue to be the best eating lake trout in the Finger Lakes.  The Cayuga fish are great, but there's something about these Keuka fish.  They melt in your mouth!
We tried a few different areas for smallmouth bass.  I nabbed a couple small ones that were legal but not a whole lot better than that.  I missed/lost a MONSTER smallmouth!  I had a hit on a fluke and kept working it in when I saw a behemoth crush it!  She grabbed it near the boat and ran straight down!  I had checked all my tackle the night before except my fluke set-up.  I just spaced on it.  I had caught the first bass on it and I neglected to recheck the knot.  I went to set the hook on the bass and came up with a curly-Q on my leader.  Ouch!  This fish had to be over 20″ – I think it was biggest one I've hooked on that lake and I really believe it was 21″ to 23″ long.  It was a tank.
A 24" Keuka Lake laker
Keuka Beauty!
We hit Seneca Farms on the way back home.  The chicken there is always good and it was better than I remembered it;  it was super crunchy (fried chicken.)  That's one place I have really missed a lot over the past few years, now that I am not guiding much on this lake anymore.  (When I lived in Trumansburg the lake was less than an hour drive from me; now it is closer to an hour and 15 minutes.)
Skaneateles Lake 10/16:  Guided Ned and his son Riley, along with Riley's pal Chris, for a full day here.  I don't generally guide parties of 3 people for casting trips but Ned insisted that the guys are used to casting in tight quarters.  I have a brand new Crestliner Fish Hawk and the layout is a bit different that my older models.  The console has been moved forward a bit and that leaves more room in the mid-section of the boat.  So it made sense to give it a shot and see how things went.
We had a relatively slow start to the day, mainly due to the weather conditions.  I showed the guys how I like to drop-shot and caught a 15″ bass on my "demo-drop."   Of course it was luck and we didn't nab a smallmouth until a bit later after that.   I haven't done a ton of fishing on this lake during the late summer to fall transition.  We tried a bunch of areas and finally wound up finding good numbers of bass.  The guys really hit them good with over 20 fish landed and a ton of follows and hits.  The day was topped with Ned's first walleye – a 23″er!   We had just been talking about walleyes and sure enough, not long afterwards Ned nabbed one on a Rapala Shadow Rap.  The guys also caught a nice perch.   Fish came on dropshot rigs, jerkbaits (hard and soft) and tube jigs.
Ned with a nice walleye from Skaneateles Lake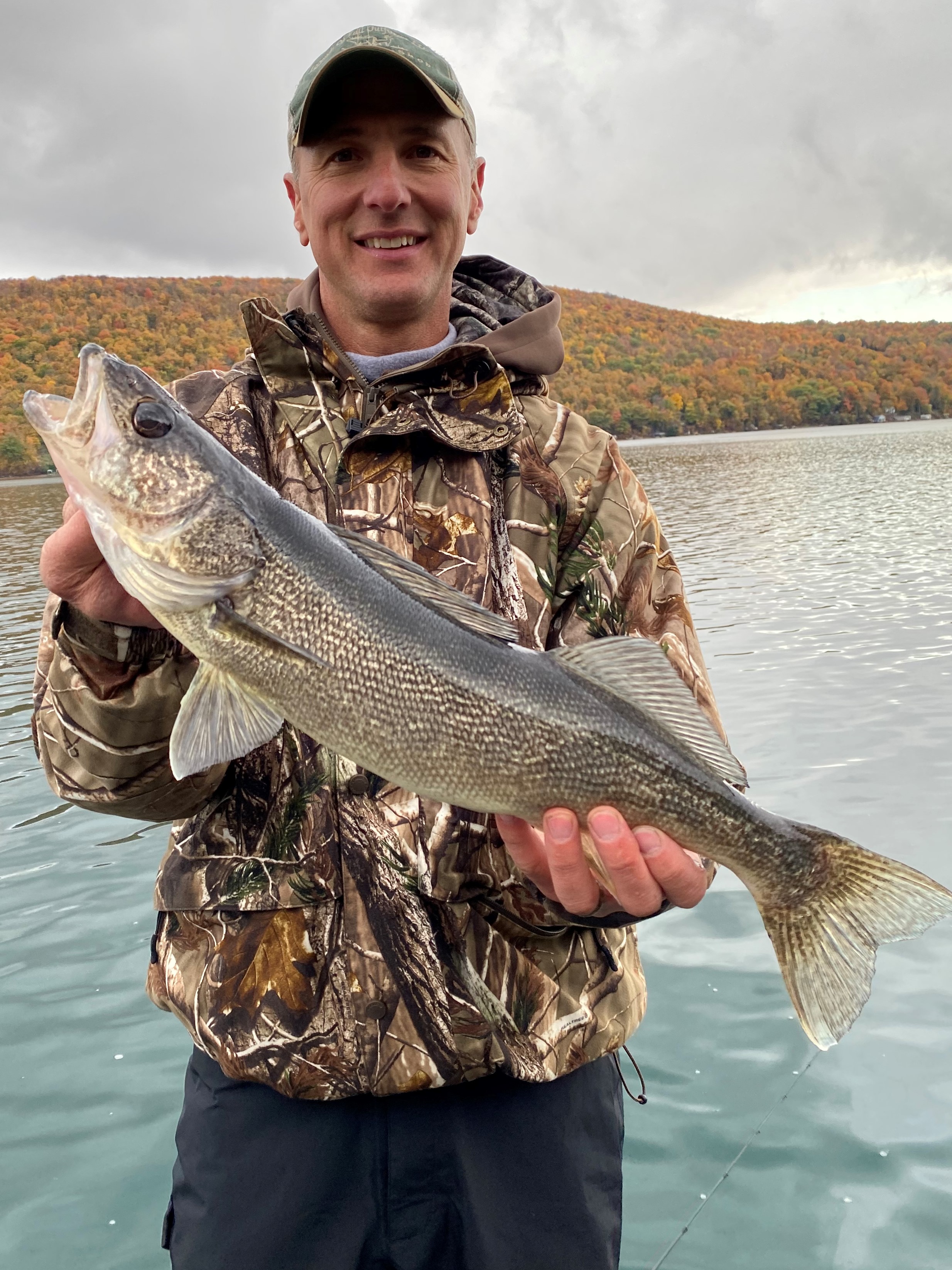 Skaneateles Lake 10/17:  Duane and his son Chris joined me a few years back for a lake trout trip.  Today they wanted to do a "catch 'em and eat 'em" trip for rock bass and smallmouths.  It was a chilly 28 degrees last night and we had our first heavy frost.  Fishing started out promising with some action on flukes.   The smallmouths must have got the word that we were after them today, because the fish that cooperated were all in the 12″ to 13″ range.  Fortunately some nice 9″+ perch came dropshotting along with plenty of rock bass, so the guys caught more than enough fish to clean.  The last fish of the day was a 14″ perch.
All in all it was not easy fishing today and overall it was a lot tougher bite than yesterday.  That's the fun and educational part of guiding – I get to see the daily and hourly, as well as seasonal movements and reactions of fish to the conditions.  With lake trout I'm as dialed it as I ever have been and I've realized how much I don't know about some of these other fish.  Nearly everyday of lake trout guiding on Cayuga Lake is a movie I've seen dozens of times.  I know how it goes and how it (usually) ends.  You start seeing incredible subtleties when you're on the water on a (nearly) daily basis. I can operate on a subconscious level.  I don't think about it anymore. The top level bass pros are that way with bass;  they've seen it all and they can trust their instincts – even on unfamiliar bodies of water.  Most of us don't get to be on the water 5 days a week throughout the season year after year after year, and that's the only way this stuff sinks in.
Duane with a 14" Perch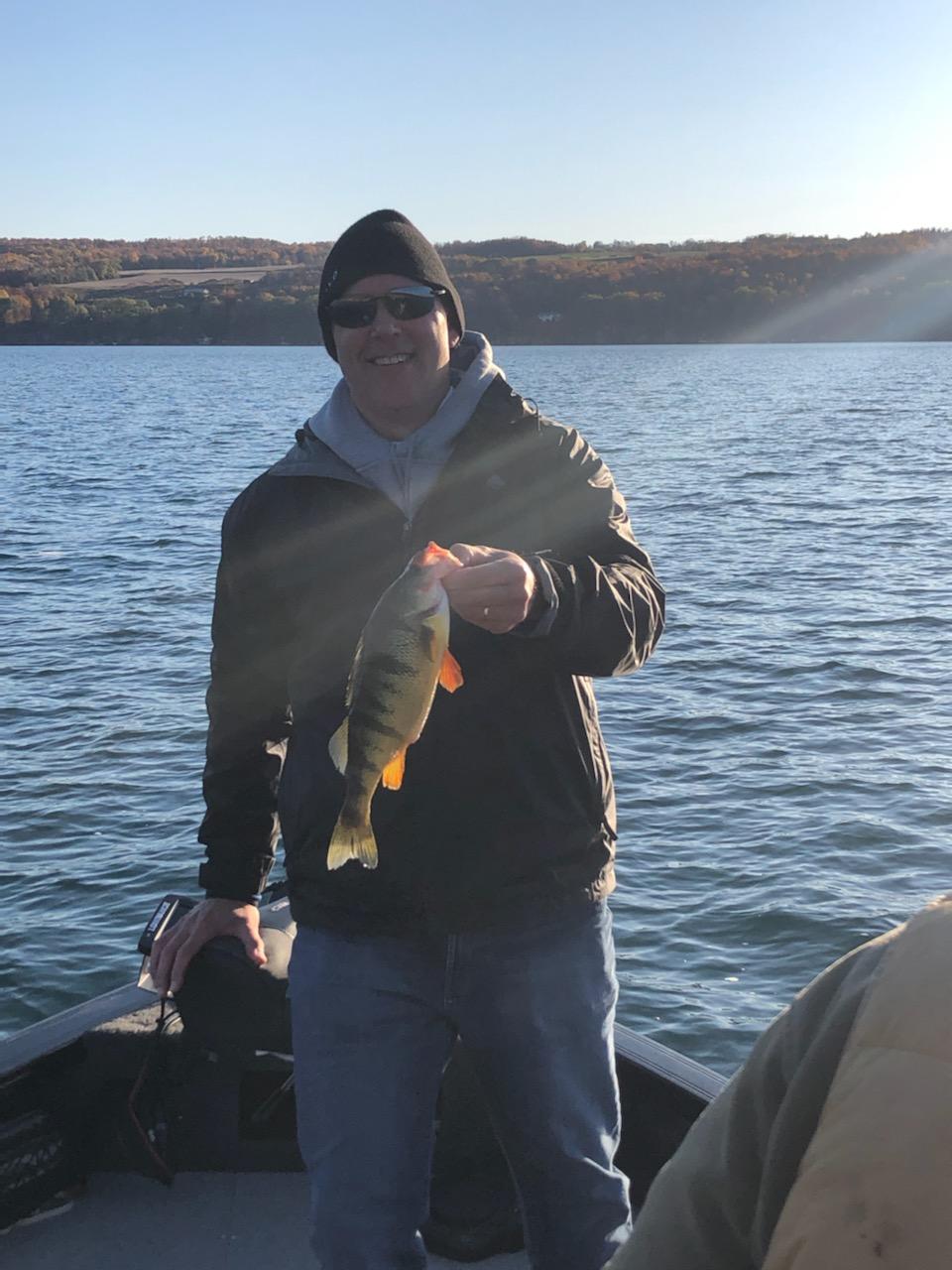 Owasco Lake 10/18 am:  Guided a half day with Sean targeting pike.  Today we had forecast 30 mph+ winds out of the south.  I would've launched down there, but the water is pretty darn low so I went with Emerson Park.  When we got there, a half dozen bass boats that had a tournament scheduled had decided not to brave the wind.  My "when in doubt, go out" mantra backfired a little bit today, but that's the way it goes.  We did have a solid hour of good fishing conditions before the winds really amped up.  Sean was only up in town for another day and he already made plans so it was today or nothing.  Our first stretch yielded a hard fighting 28″ pike that he kept for dinner.  He had another follow and a few other hits.  But that was about it.  He wasn't interested in lake trout (having caught a bunch yesterday) so we stuck with the pike in the heavy winds.  I gave him some lake fly-fishing casting tips as well as boneless pike fileting tips at the end of the day.  Even if the fishing is tough, the least I can do is try to impart some useful knowledge.
Nice Owasco Pike for Sean