Reports 5/20 – 5/23
As of this writing on 5/24, I still have this Memorial Day Weekend open for trips!  A lot of people think Memorial Day weekend is a busy weekend on the water with regards to boaters, but apart from anglers, it's usually fairly quiet out on the lakes.  With the hot temperatures in the forecast, we may see more boating activity than usual, but keep in mind that this is usually the weekend when people just start to open up their cottages and get their boat hoists in and so forth.
Surface temperatures on the area lakes are just starting to creep up, but overall the lakes are still cold.  (Watch how many kids will be out on the lakes this weekend screaming as their clueless parents drag them around on tubes in 53-degree water!)   Midges are fairly active but not too bad.  Lake surface temps are in the high 50s.  We may see temps hit the low 60s next week, but keep in mind that down 30′ the water is still very cold.  This is the time of year when bass anglers catch occasional lake trout while fishing shallow.
5/21 AM:  After 4 cancellations this past week, due to everything from wind conditions to health issues of clients and other factors, I was happy to receive a text from Mike, looking for a trip for himself and his friend Noah.  I guided Mike on a brutal day on Cayuga Lake one October probably 8 years or more ago, where we dealt with high winds and tough conditions.  He was probably 11 years old, if that, at the time.  At the end of the trip he landed a 15″ or 16″ lake trout and was really stoked.  He never gave up or lost faith.  Needless to say, he's a talented, avid angler and really passionate about the sport!  Our AM bite never really caught fire although the guys did pretty well in a down-lake area.  We tried varying parts of the lake and had a slow bite until near the end of the day, when baitfish and lakers really moved in.  We wound up with a double-digit morning.  One of Mike's buddies caught a laker recently on a "kiddie-rod" and Mike did give it a try for a little bit without any luck before the outfit broke down!
Mike working the "Barbie Rod" like a pro! Actually it's a "Monster Rod."
Noah with a good fish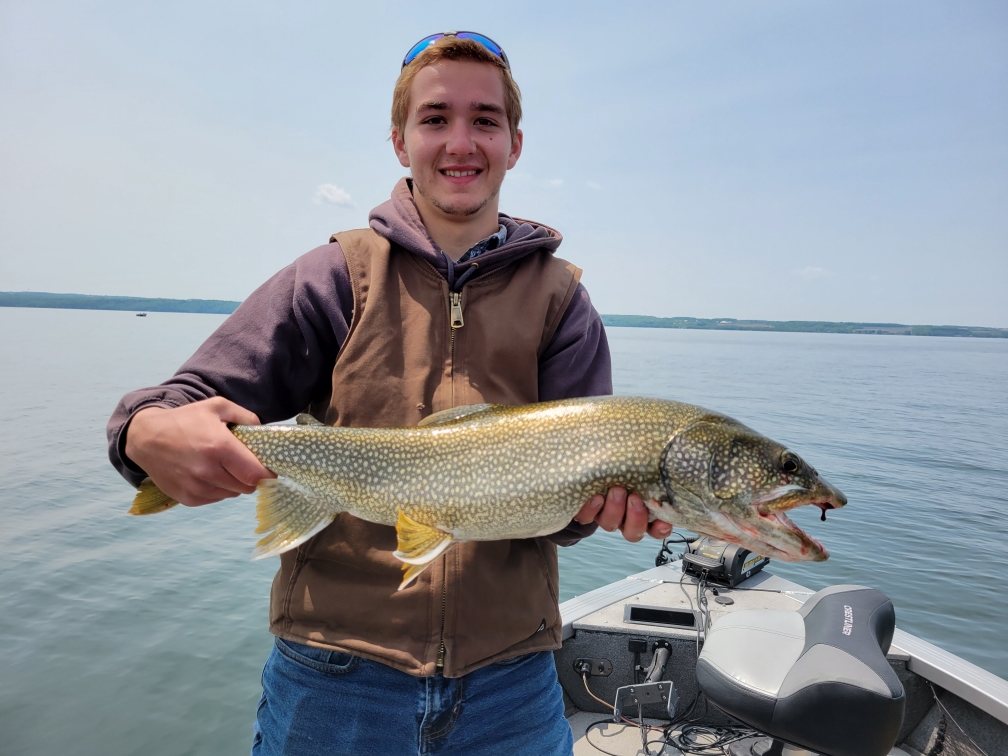 5/21 PM:  While out on the water, I wound up getting a couple of trip inquiries.  I booked a very last-minute trip with "Big Fish Dave" (the guy who caught the giant Skaneateles brown trout) and his friend Zach, who resides in the area and does a lot of fishing.  I took them right where my AM trip left off and we wound up having a great afternoon trip with double-digits of lakers landed.  Big-Fish Dave wound up nabbing a 33″ lake trout, so he maintained his namesake.  We did very well on black jigs and alewife-colored Lunker City Shakers.
Dave with a mambo!
Zack with a fish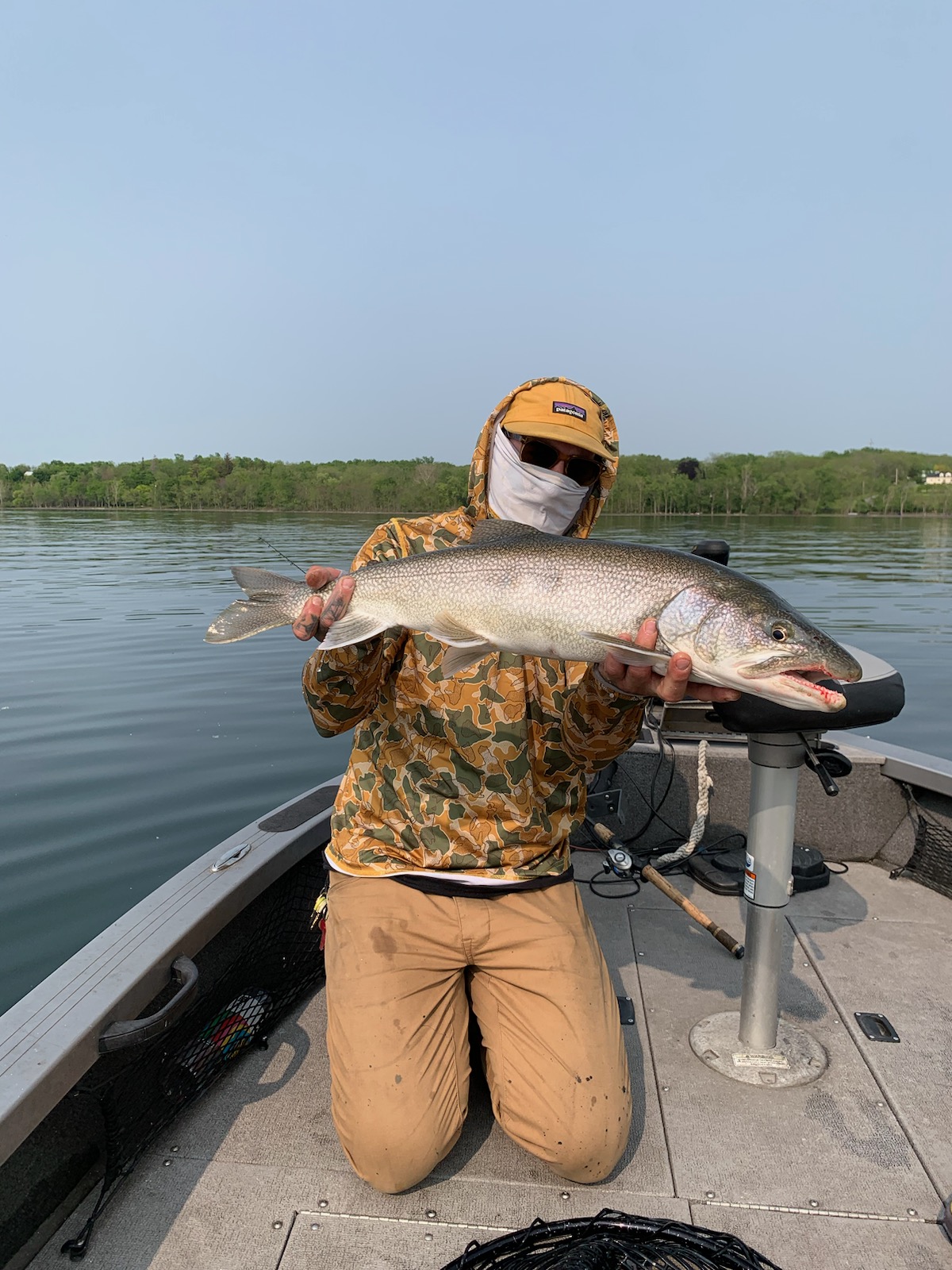 Yours truly holding Dave's big fish. Gotta love the shirt my client Dave C. gave me!
Dave hooked up
5/22 Skaneateles Lake:  Guided Gordon, for what's been an annual birthday trip for him for quite some time now.  He mostly fly-fishes but will throw gear from time to time depending on the circumstances.  We had a solid day with double-digit smallmouth bass on the fly and gear, along with 8 solid perch running to 14″ long and one bonus lake trout on a jig.  He lost a couple very solid fish on jigs.  We're not sure what they were.  I'm guessing walleye or rainbow trout from the battles.  Some smallmouth bass are shallow but water temperatures really vary throughout the lake.  I'd expect to see a big movement shallow after this weekend and next week's warmup.  We ran into some big carp in a bay and Gordon gave them a good shot on the fly.  We didn't have any takers but one or two may have shown some curiosity.
Lake Association "Stewards" are checking for invasives and informing boaters on proper cleansing of boats.  Make sure you have a clean trailer, dry livewell and dry bilge before you launch here.  Those measures will save you any hassles. I'll leave it at that.
Gordon working some carp with the fly-rod
5/23 Cayuga Lake out of Long Point:  I had a call from regular Mark I. who was looking to get out on Tuesday to give lake trout a shot on the fly.  Mark's a terrific fly-fisherman, especially on lakes and the ocean, so I was psyched to give it a go.
I have a long history of fly-fishing lake trout on the Finger Lakes, but my success from the boat has been poor on Cayuga and Seneca Lakes.  From shore on Seneca, we'd done great and the fishing was superb back in the late 1990s and early 2000s when the alewives crashed on Seneca.  My biggest lake trout to date is one I caught fly-fishing on Seneca Lake from shore with a floating line.  On Cayuga Lake, I caught a 27″er years ago, back when you could fish the "sunken forbidden pier" at Taughannock Park.  I believe this was before I owned a boat.  I had one friend, Willy, who was an expert fly-fisher – he once caught a nice laker shallow while out with me between Long and Stony Points years ago on a Teeny line or similar integrated set-up, but I could never get anything consistent going.  It was hard to keep at it when we'd watch hours of fruitless casting go by without luck, then drop a jig and hookup within 5 minutes.  My friend Shahab and I once spent a few hours casting LC-13 setups on the Belhurst flats without a hit or follow, and those flats were LOADED with fish.  I would often get follows in the early days, but they never seemed to translate to fish.
A LOT has changed since the early 2000s – basically 20 years ago:
1.)  Now we have GPS positioning trolling motors – those have been a game changer.  I used to have to anchor or use a drift sock (or two) when the wind was up.  It was a huge pain-in-the-butt.  Now you just press a button.
2.)  To get deep, I used to have to order intermediate running lines from the San Jose Fly-Shop in California, who'd then fashion a fly-line set-up for me (and many other anglers) using a length of Cortland's LC-13 or Rio's T-14 (lead core and tungsten core fly lines that have a 13 or 14 grain per foot weight.)  They were effective set-ups, but nowadays, nearly every company has a great integrated fly-line.  I think the Teeny Line was the first.  The newer integrated fly-lines are a joy to cast.  The old set-ups we'd buy with LLC-13 took some getting used to, but they did get your flies down.
3.) Lake trout populations on Cayuga Lake are really high right now and shallow gobies have resulted in more lake trout being shallow from late-October through early July than ever before, although most lakers are on alewives in May-July up north.
4.)  Fly designs are always improving.  The fly-patterns these days with articulated jointed patterns and various synthetic materials are game changers.
I have a few friends that have been getting into some nice lake trout on the fly from boats on Cayuga Lake over the past few years.  I think we'll see more and more of it.  Keuka Lake to me, is really going to be the easiest, most fun and consistent lake trout fly-fishery in the years to come.  I'm not 100% certain of that, but that's my gut-feeling given the lack of baitfish over there.  Those wild fish are very aggressive and want to eat.
All this being said – new innovations and so on, catching a lake trout on the fly during the spring/summer in their feeding patterns is still an accomplishment and isn't easy.  You have to pick the right conditions and things need to fall into place.
I thought we'd have an easier time than we did, but Mark and I started off around 8 am with a nice southerly thermal blowing.  In the second area we fished, while pausing his streamer, Mark had a fish right on it, but he couldn't get it to take.  It was like musky fishing!  Unfortunately after that, we dealt with a lot tougher fishing.  I had him on fish and bait but he couldn't get bit.  Eventually he jigged up a couple fish for the grill.  I could tell by the jig-bite, that fish were somewhat neutral.
One great thing about fishing with Mark over the years is that we've seen a lot of last-minute heroics and we've developed a trust in each other.  I know Mark won't give up unless he has to get back home for a reason.  He trusts my knowledge and we've enjoyed a lot of great fishing together.   We were pretty much ready to call it a day after giving it a great shot and running all over the lake.  We had been around bait and fish for most of the day, but weren't getting much "love" from the fish.  We agreed on another 15 minutes of fishing while I put gear away.  I had him in around 30′ to 35′ of water and he was casting a 350 grain Rio "sink-tip" in a little bit shallower and letting it sink to the bottom.  He had a David Skok tied Clouser minnow on that was chartreuse and white.  Finally it was time to go – Mark said "last cast" and he meant it.  Sure enough, he hooked up!  He had a great head shaking fight and a couple good runs.  It was about all you'd want to handle on an 8-weight fly-rod!  Don't ever let anyone tell you that lakers don't fight well either!   Give them 48 to 52 degree water and you'll see what they can do!   Anyways we landed the 27″ beauty.  Ninth inning, 2 outs, ball 3, strike 2!  Home run – game over!
Mark on!
Another shot...
Mark holding his 27" fly-caught laker
Close-up of fly in the mouth