Seneca Lake 3/18 + Skaneateles Lake 3/19
Got out with my buddy Mike for some (mostly) fly-fishing on Seneca Lake for salmon, then on Thursday I guided Mark I. for a full day on Skaneateles Lake – also primarily fly-fishing.
3/18 Seneca Lake out of Watkins Glen:  Despite the warm March weather we've had, we found salmon to still be holding in a winter pattern on Seneca Lake.  The fly- fishing was fun, but we didn't do much catching. We worked a fair number of areas on Seneca and wound up finding a couple small groups of salmon.  Mike had a couple grabs.  I had what seemed to be a solid hookup from a very nice fish that jumped and then got off.  That was about it – we had some nice follows as well.   We threw lures with spinning gear at times too with Mike having a hit or two.   As I've reported throughout the season, there are some nice fish in this lake but it's not nearly as hot as it was during some of the better years over the past decade.  A few boats were out perch fishing.  No word on the bite.   Water is at a good level and water temps were around 40/41.  The south end was warmer.
3/19 Skaneateles Lake:  Had a great trip here with Mark I.  First thing of note is that the docks are not in yet.  With non-essential State employees off for at least the next two weeks I wouldn't expect them in anytime soon.  What qualifies as "essential" versus "non-essential" is not very clear, but again – I don't think the operations unit of DEC is considered essential.
Fly-fishing was excellent.  Mark wound up landing at least 7 solid 19″ to 20″+ salmon on the fly.  He lost two solid fish.  He also nabbed some nice bonus perch.  No sign of definite rainbows hitting his fly, but some shore fishers are catching a few.  He used an intermediate line with an olive conehead woolly bugger around a size 4.  Just about any fish that swims in Skaneateles will munch that fly.   He kept one salmon for the table, then we had a deep-hooked one that wasn't going to make it, so we kept that one as well along with around a half dozen perch.  Water temps are cold here – 36/37 if I remember right.
Woolly Bugger strikes again...
Average Skaneateles Lake salmon circa 2020
Mark holding one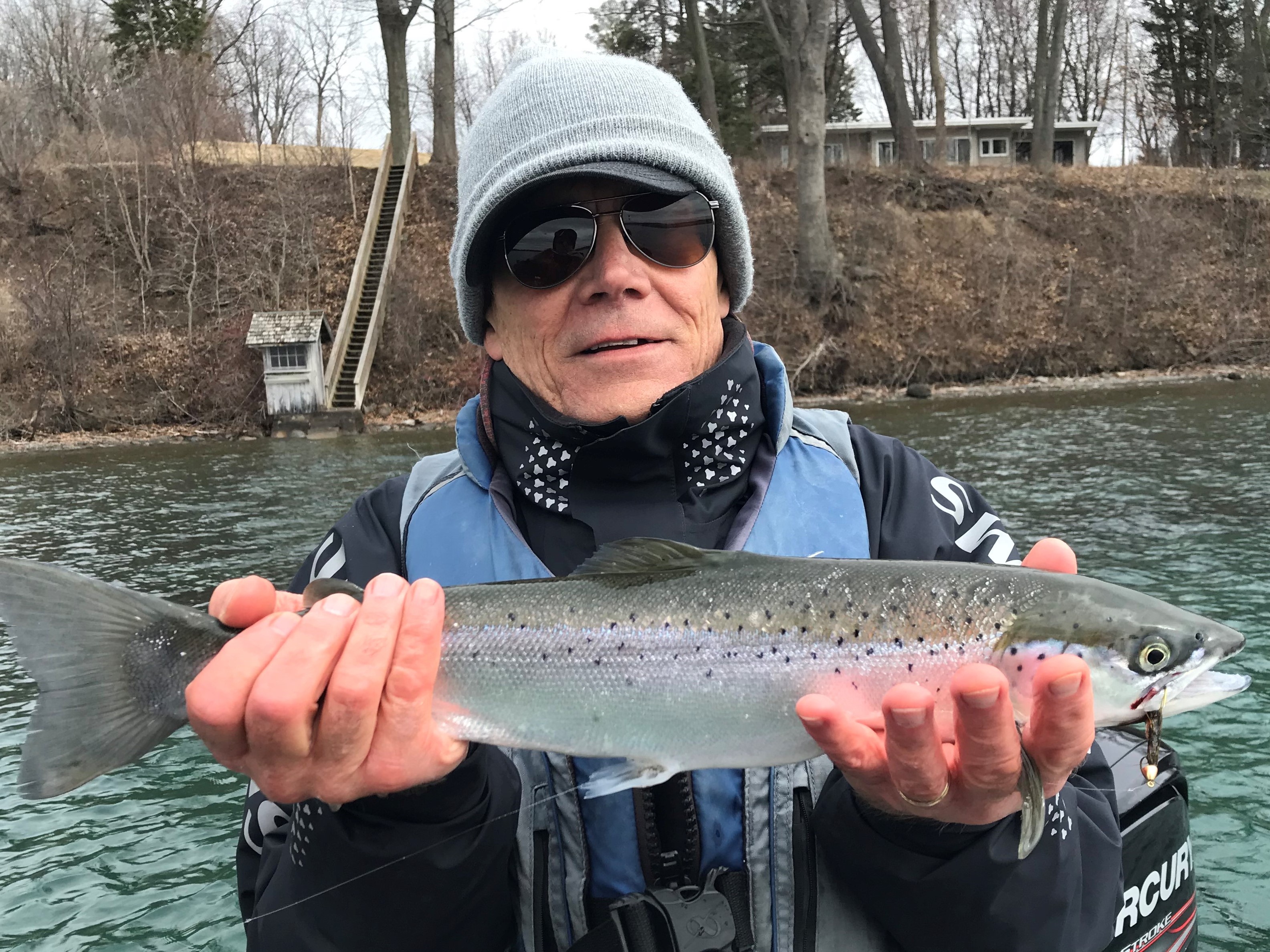 Lastly I must point out that our Governor has decided that we are all to remain "on pause" in New York State.  Despite the fact that the vast majority of corona virus cases have been in the downstate area (and zero confirmed cases in Oswego county as of 3 pm as I write this on 3/21) ALL businesses apart from essential ones (like supermarkets and gas stations) must cease to operate.  (After writing this I finally saw a published official list of who can stay open – and yes, auto repair is essential – so that is good.)  I fully understand the potential severity of this virus.  But it's like having a person with a gash on their leg and bandaging them up from head to toe.   New Jersey just implemented a lock down of RETAIL businesses – that actually makes sense.  So would having the elderly and youngsters "staying in place." New York's broad brush orders could have been implemented with some more thought for sure.  But look up "Brianna's Law" and anyone can see that our Governor operates just like our Universities.  If there's a sexual assault allegation on the "insert name of college here" campus, instead of seeing it as an isolated incident, we now have a "rape culture."  The perpetrators aren't singled out – the entire campus culture and surrounding communities are all to blame.  Douglaston Salmon Run had to shut down!  How ridiculous is that?  People can't go fishing over there.  We can all go to Target or BJs Wholesalers and come in contact with a hundred people but we can't go fishing at DSR or I can't take one person on a trip!  Give me a break.   The Governor says it will "save lives" – for that matter, so would lowering the speed limit on all our roadways to 10 mph, but is it worth it?  Our economy is taking a severe hit here and many people are going to be hurting badly.  Depression, suicide, long term debt, businesses closing down – is the cure worse than the disease???   I could continue to write an essay on this but I won't.  But it is relevant to my business.  And what happens after a few weeks?  If everyone goes back outside, aren't we going to see a massive spike in new infections?   By the way, according to the CDC 12,000 Americans died of influenza from 10/1/19 to 2/1/20 – not coronavirus, just another strain of influenza.  I don't remember hearing that on the news 24/7!
On a positive note, I have a new boat on the way!  It will be another Crestliner FishHawk 1850.  I'll have brand new electronics and some nice amenities.  Looking forward to putting all this virus stuff in the rear view mirror!