Seneca Lake out of Sampson State Park 8/10, Cayuga Lake out of Myers Park 8/11 AM
Guided Seneca Lake yesterday and Cayuga Lake today.  Fishing ranges from good to very good.  Waterfleas and weedmats remain abundant on both lakes.  There's a lot of warm water around as well and fish tend to move deeper as the season progresses.  Boat traffic is generally light.  Baitfish abound in both lakes.
Seneca Lake 8/10 AM:  Guided John, John Sr. and David for the morning portion of our full day trip.  We had fair to good winds out of the south (10 to 14 mph by my estimation) and overcast/rainy conditions.  It certainly isn't one of my favorite laker jigging scenarios this time of year.  The guys all hung in there with good attitudes despite slow fishing.  We were around fish, but they didn't appear to be too active.  After a couple of hours of getting rained on, Dave finally hooked up with a 20″ keeper lake trout. Seven people were staying at their rental and hoping for a fish dinner, so we needed some more fish!  Unfortunately it wasn't to be – that was it for the AM crew and trip.
Seneca 8/10 PM:  For part 2, I had John Jr. from the morning trip, his younger brother Ben and their mom, Peg.  More importantly, the lake appeared to be laying down and the rain abated for awhile.  I was able to take the guys (and gal) to areas we couldn't comfortably fish in the morning.  John had a hit on his first drop of the jig and I had a hunch that we were in business!  John nabbed one, then Peg, then Ben.  We had some doubles and pretty hot action for around 90 minutes or so.  We had lulls and then another reasonable bite window.  We found up with a double-digit afternoon and all the fish they needed for the fish dinner!
Peg hooked up on Seneca in some good chop!
Peg and I with a laker
Ben with a nice fish
Action! Doubled up!
More!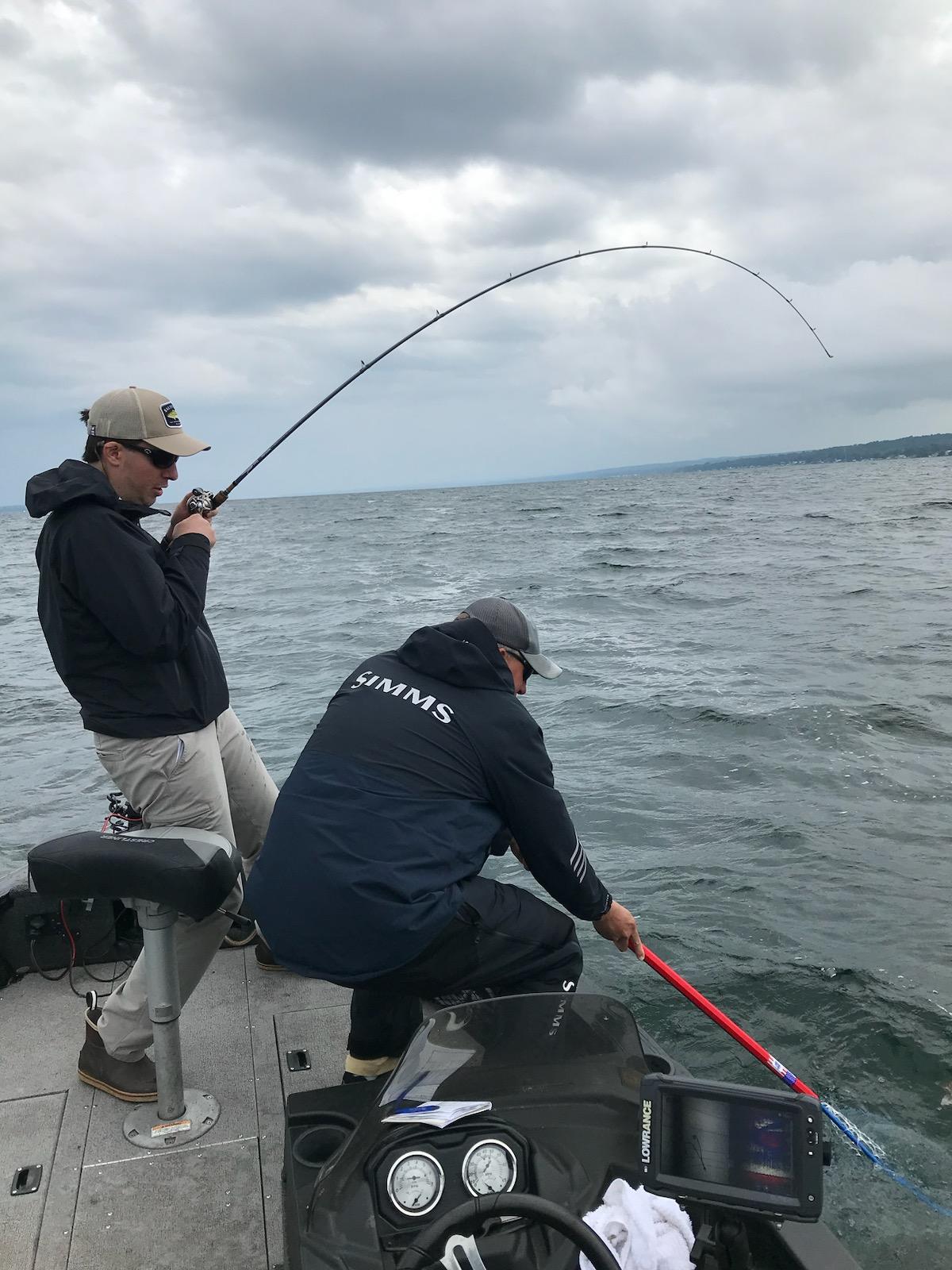 Another shot with Peg and my new Cumings net! Got to love the extending handle!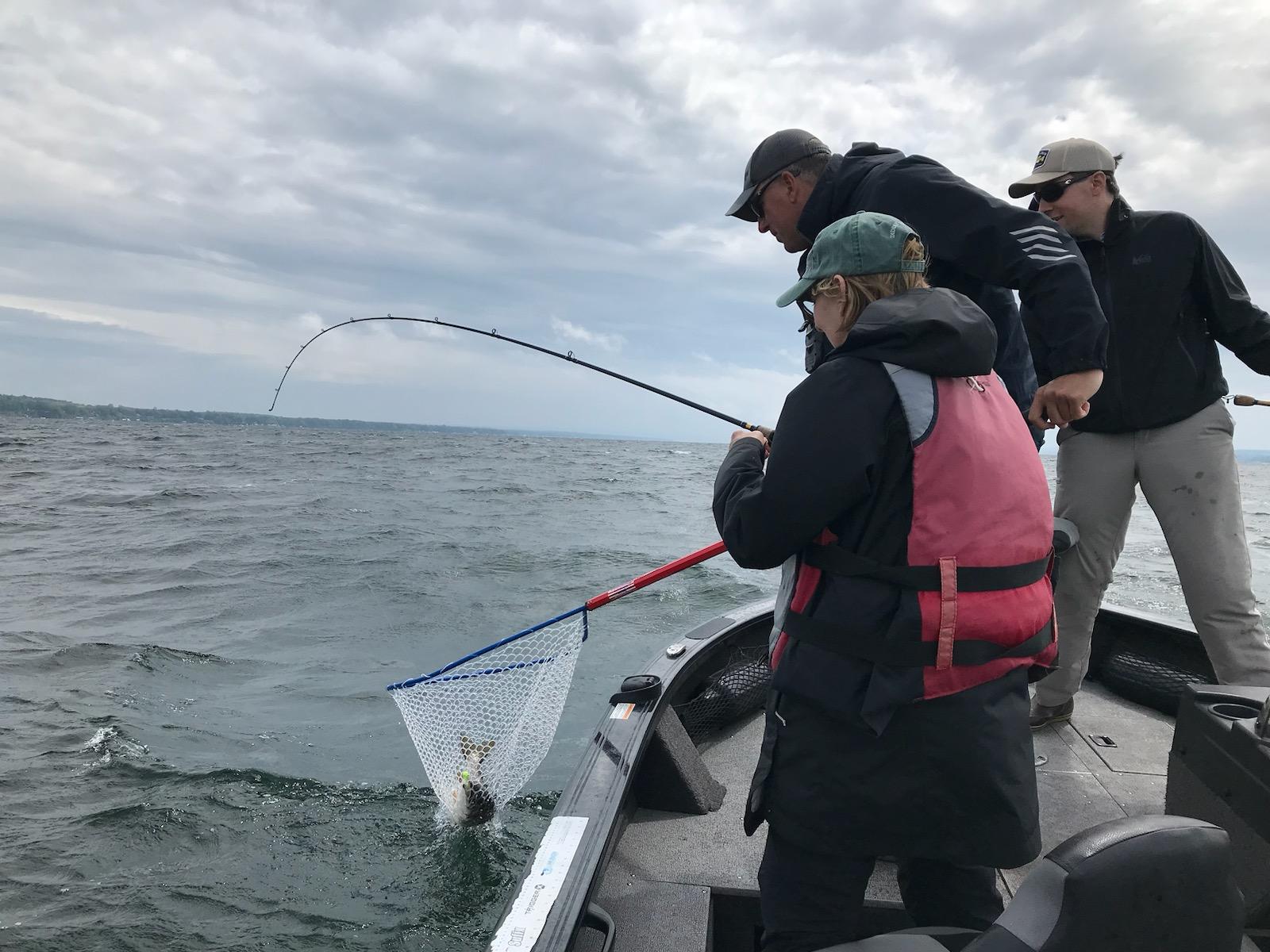 Peg and John after their double
8/11 AM Cayuga Lake out of Myers Park:  Today I guided Greg and his nephew Matt for a 1/2 day starting at around 6:45 AM.  Fishing ranged from good to very good today on Cayuga Lake.  We targeted lake trout for Matt's smoker and the guys caught what they needed and then released a bunch of fish as well.  It was a decent double-digit day.  Fish ranged from 75′ or so out to 90′ FOW.  Best colors today were Chartreuse Silk, White/Chart. tail, Alewife and Black.  Fish are well-distributed throughout the lake and we did well basically from Myers north to Sheldrake.
Matt hooked up
Matt holding three fish in the Earl Holdren style! The smoker will be smokin' this weekend.