Silver Lake Marine Update
I swung over to Silver Lake Marine to pick up my 2020 Crestliner after being stored over there for the winter.  The new service building is nearing completion.  The construction project was started last fall.   Needless to say, the new facilities are very impressive!
The New Service Building!
A peak inside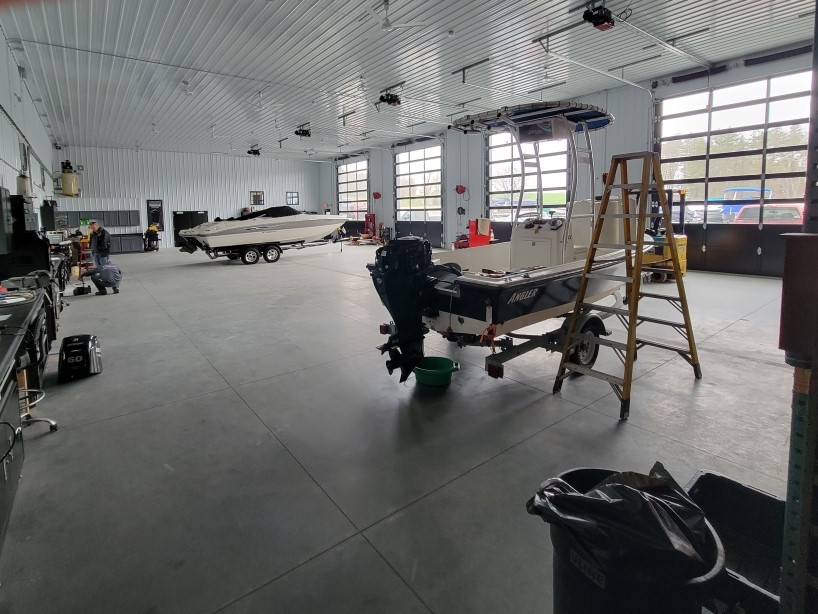 A Closer Look Outside
Skyler trying to dodge my camera!
Some of the more frequently asked questions I get asked are: "Where do you take your boat for maintenance?"  Another is "Where do you buy your boats?"   And after I say, "Silver Lake Marine" the follow up question is, "Where is that?" And then inevitably I get asked "Why do you drive all the way over there?"  I think you'll see the answer to those questions if you keep on reading!
I have purchased my last two Crestliners at Silver Lake Marine and will buy all of my future boats there.  My first one was bought in Pennsylvania back in 2001.  This was before I'd heard of Silver Lake Marine and before they were a Crestliner dealer.  I'd had such a hassle trying to find a decent Crestliner boat dealer in Central NY that I called Crestliner and was given the name of a place in central Pennsylvania.  I did get a great price down there, but they took some bush league short cuts on the rigging.  You get what you pay for.  The place no longer deals Crestliners.  I heard about Silver Lake Marine through a client of mine, George D.  After having another area dealership (a Lund/Yamaha dealer that is no longer around) strip my oil drain plug during some routine maintenance, George told me to check out SLM.
Not only did the guys at SLM (I will abbreviate the name for the sake of brevity) take care of my issue.  The boat dealer in PA had never even registered my Yamaha Motor.  The guys at SLM got that taken care of for me.
My takeways so far were as follows:
Can I even trust a Yamaha dealer to not mess up my motor?   How in the world could a certified Yamaha dealer screw up a simple oil change and on top of that, not take ownership of it?   It turns out that this dealer would hire a couple extra (non-trained) laborers to take care of winterizing boats at the end of the season.  Not such a great idea in hindsight.  Instead of hand tightening my oil drain plug to make sure it was going on properly, they clearly just stuck it on (obviously cross threaded) and wrenched it to oblivion.
When I needed some Yamaha service one time at the end of the season, this dealer basically said he had a bunch of boats to winterize.  I told him my situation as a working guide.  It didn't faze him.  His attitude was, "you can get to the end of the line."  Now if someone is getting their boat winterized, does it really matter when it happens?  As long as we don't have freezing weather, one day here or there shouldn't matter.
I have a friend that runs Lunds.  At his dealership you have to walk on pins when dealing with the Service Manager.  Sometimes the guy has a good day, sometimes he's off his rocker a bit.  At Silver Lake Marine, the entire staff are made up of decent human beings.  You don't feel like they are doing YOU a favor writing up a service order.   They will schedule an appointment for you and things will get taken care of correctly.  Nobody is perfect, but if they do make a mistake, they will take ownership of it and make sure you're satisfied.
One client of mine bought a boat last year and needed to get his trailer inspected and lights fixed.  He dropped it off at a marina nearby him and it sat in the lot for close to 2 weeks without the owner taking a look at it or acknowledging it.  He had to call a couple times to see what was up.  Eventually he just found another place to take it.  Great service, huh?
A couple years ago I had some trailer light issues on my 2002 Crestliner.  I took my trailer to a nearby shop and they put on new tail lights.  Everything worked good for about an hour.  I took my boat to Watkins Glen and the (unsealed light) lens fell off.  I brought the trailer back over to the guy and he gave me a new one and told me that my tie-downs probably rubbed against the lens.  Make sure you attach the tie-down to the trailer frame he said.  So I listened and did what he recommended.  The lens fell off again!  Mind you, these were unsealed lights!  Why on earth would someone sell unsealed marine trailer lights?  They weren't LEDs either.  I paid a premium price for garbage lights.  Great, huh?
So, I took the boat trailer to another place and the owner looked at the lights and said, "Man those are cheapos."   One of them was working and I'd bought a new one that I couldn't get a good ground on.  They replaced the one that was working and never even plugged in my trailer in order to see which light I needed replaced.  I could also go off on the shoddy bearing work they did as well as the completely wrong brake assessment they gave me.  But I won't.
Silver Lake Marine is right near Letchworth State Park.  It's not a bad drive from Rochester or Buffalo.  For me it takes about 2 hours.  Depending on their schedule and my needs, sometimes I can get what I need done on the same day I drop it off.  Or they will tell me up front when the work will be done.  I don't have to worry about the boat sitting there for two weeks before someone decides they have time to look at it.  They are right on Silver Lake and very close to Conesus and Canandaigua Lakes.  So dropping the boat off and then picking it up and hitting the water nearby can be an option.