Skaneateles Lake 4/23 PM
My clients and I decided to cancel our scheduled weekend trips due to the heavy winds forecast for Saturday.  I was looking forward to laker jigging Cayuga on Saturday and then Seneca on Sunday.  Sunday (i.e., today) wound up being a nicer day than forecast.  Winds were originally forecast to come out of the north from 10 to 20 mph, instead, I wound up with winds NW around 5 to 8.  Saturday really blew hard!  In the old days, I'd move the trip to Hammondsport on Keuka Lake, but there's no public access there anymore.  No matter where you go, 35 to 40 mph gusts are barely fishable and rarely enjoyable.
Skaneateles Lake was on my "to-fish-list," so that's where I went.  The water here is very high!  Not quite flood-stage, but close enough.  Cottage-owners that didn't move their floating docks far up on the shore or banks in the fall, run the risk of losing them.
Skaneateles Lake State Launch - the water is HIGH!
The floating docks obscure how high the lake actually is, but it is half-way up the ramp.  It's probably a good thing for the fish, but not for the homeowners.  As long as the lake doesn't rise anymore, they should be fine.
Around 10 to 12 rigs were in the lot when I arrived around 12:45 pm.  Water temps range from 40 to around 43 degrees.  I really love this lake year-round, but my favorite times to fish it are in April and early May and then back again in October and November.  Mixed-bag fishing here is the norm then and today was no exception.
Fishing was slow but steady for me today.  I landed around 7 or 8 big perch.  My largest was 14 1/2″, which I released.  I could see after a while that I was over a lot of perch at times, but they weren't biting very well (at least after my first hour) – at least not what I was throwing.  I also caught my first lake trout over here of the season.  I think it was 16″ to 17″ long.
Skinny laker in more ways than one!
These fish may be 100% wild here but they're also 97% dinks here!   I have yet to land or guide anybody to any lakers above maybe 30″ long here, and we've only had a few over 27″.  At that size, the ones we've caught looked more like Seneca Lake lakers than the Alaska laker-look that the dinks have.  It'd be fun targeting giant lakers here, but my guess is that you'd be lucky to get one every 3 days to a week.
I also landed my first rock bass of the year here and it gave a good accounting of itself.  I thought I had a good smallmouth or a big perch, but nope – it was a rocko.  In one area I lost what appeared to be a very nice rainbow trout around 23″ to maybe 25″ long at best.  I could make out the blueish white color as it twisted away from the boat upon first being stung.  Shortly afterwards, I set into a light bite and felt a big fish on.  I had no idea what I'd hooked but when I first saw it, I was reminded of the color of Oneida Lake freshwater drum, but of course there are no drum in Skaneateles Lake.  It was a big walleye!   I netted the slob and threw it in my livewell after a poor attempt at a selfie.  This thing had a huge head on it but wasn't fat.  My 27″ walleye only weighed 6lbs 6oz.  It was post-spawn, which surprised me.  Ten minutes later I caught another big perch or two, then set into what fought like a big perch crossed with a smallmouth on quaaludes.  Sure enough, it was another walleye – a very pretty 19″er.   By this time, I had some rain falling along with a north wind (walleye wind) but overall, despite my winter coat and long underwear, it was fairly miserable out there.  I fished another 40 minutes or so, then called it a day (after another bass and perch) at around 5:30 pm.
27" 6lb. 6oz (yes, thin) Skaneateles walleye
The fish I kept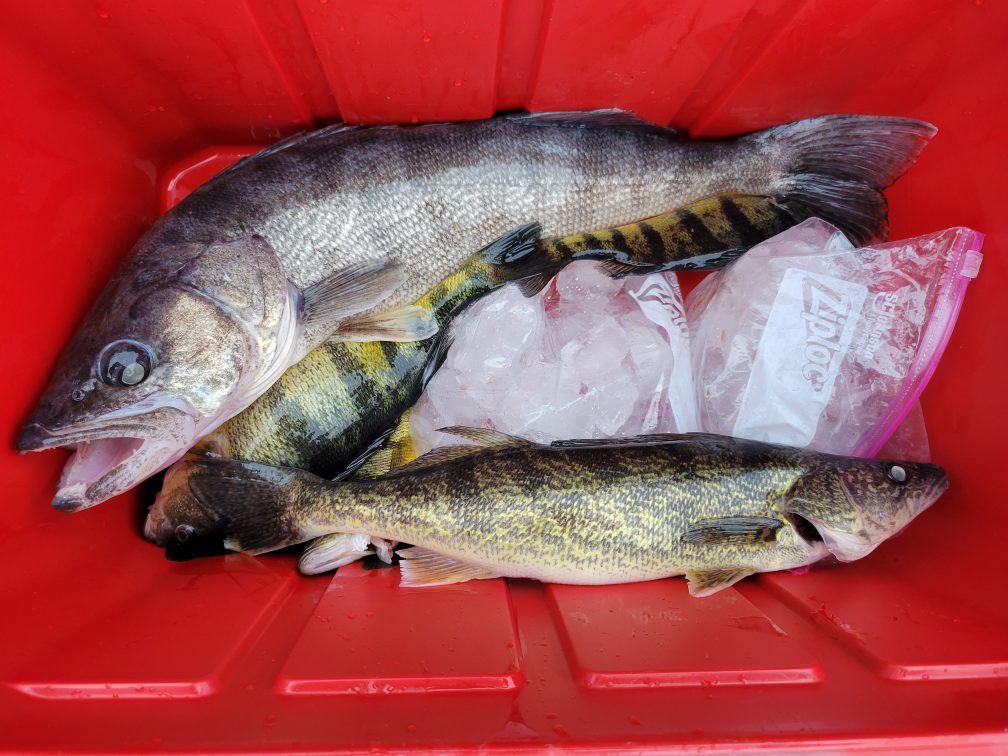 I kept 5 nice perch.  I'm getting to the point where I only want to keep perch out of this lake running from around 10″ to 13″.  I'm happy to let the big females go.  I really have gotten over having "fish-cleaning marathons."  Maybe I'm just getting old!
Both walleyes were post-spawn which surprised me a bit.  At least my big female spawned for the last time.  I was happy to have hooked a rainbow.  My thoughts are that this new walleye regulation is really going to have an impact here.  We'll certainly have walleyes here for the foreseeable future, but by encouraging harvest on these fish throughout the year, we may be able to take enough pressure off of the trout/salmon/perch populations to enable these fish to coexist on some level.  We'll see.  I'm slightly encouraged just by the fact that we are still seeing a few rainbow trout in the lake.
My client Kevin (who often fishes with Drew "the Dinkmaster" or "Drew the rockbass slayer," (two of his many aliases,) pleasantly surprised me last year with the book "Tartine Bread" as a Christmas gift.  I casually mentioned to him that I'd gotten into making pizzas at home during the pandemic and it was a very thoughtful gift.  I've been cultivating "wild" yeast since January and finally put it to use baking some sourdough bread.  Eating fresh baked sour dough bread is amazing.  I was stunned by how good it was.  The writers of the book like to eat it right out of the oven, but the next few days one of the guys recommended frying slices it in olive oil.   You may ask, what does this have to do with a Skaneateles Lake fishing report?
Well, take a look below!
The Bread out of the oven - first attempt!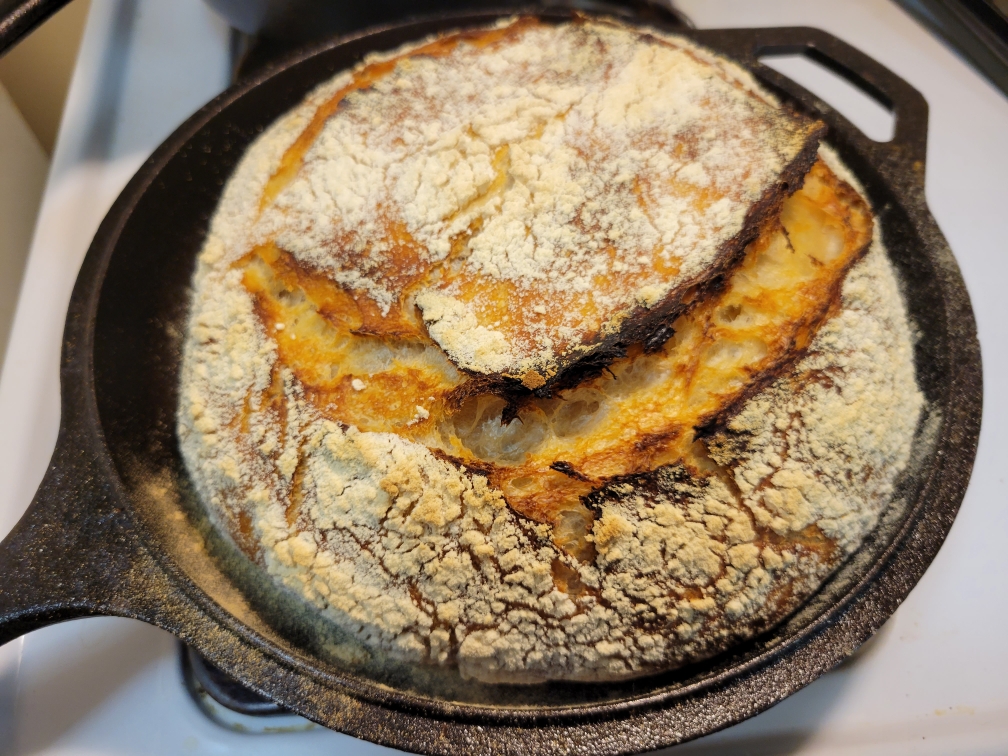 The reward for removing invasive walleyes from Skaneateles Lake! It doesn't get much better than this! Keeping it simple!