Waneta Lake 11/17
Got back out here with Mark I. for what will be our final Waneta trip of the year.  One other rig was in the parking lot when I arrived around 8:15 am.  On the day, we saw two boats apart from ours fishing the lake.  We had south winds around 14 to 17 mph gusting to over 30.  Rain moved in around 2 pm as predicted but never amounted to much.  It wound up being a good day of fishing.
We've been trying Waneta since 11/25/2016, when he had an epic day on the fly, which we haven't come close to repeating!
http://fingerlakesanglingzone.com/waneta-lake-11-25/
Over the years, we've worked together to try and figure out a good fly-fishing approach to the lake.  Over the past few trips, we've made some strides that are helping Mark fish a lot more efficiently – our methods incorporate a combination of spot-locking, drift bags and more.
We took a systematic approach to working the lake today and dealing with the harsh conditions that we were given. It isn't easy to fly-cast when winds are gusting upwards of 30 mph, but we found ways to use the wind to our advantage and not have to deal with the full force of it.
Mark landed a gorgeous young musky around 24″ long today.  All stocked muskies here are fin-clipped.  I didn't give this fish a great look over, but from the appearance and photos, it may have been a wild fish.  I usually notice clips right away.
In another area, perhaps an hour later, Mark was pretty sure he had a grab, but wasn't able to get a hook-set.  A half-hour after that, he had a solid fish show up for his Figure-8.  No grabs there.  He spent nearly the whole day casting large streamers.  We took a one-hour break and he casted some gear with no luck.  Water temps came up a degree or two and were around 46 today.  Clarity was excellent.
Terrova Spot-lock is on, as Mark works a point
Fish on!
A look at the fish in my giant net
Smaller Musky, but any Musky on the fly is a great catch! And this one is a beauty!
Close-up of the streamer in the musky's mouth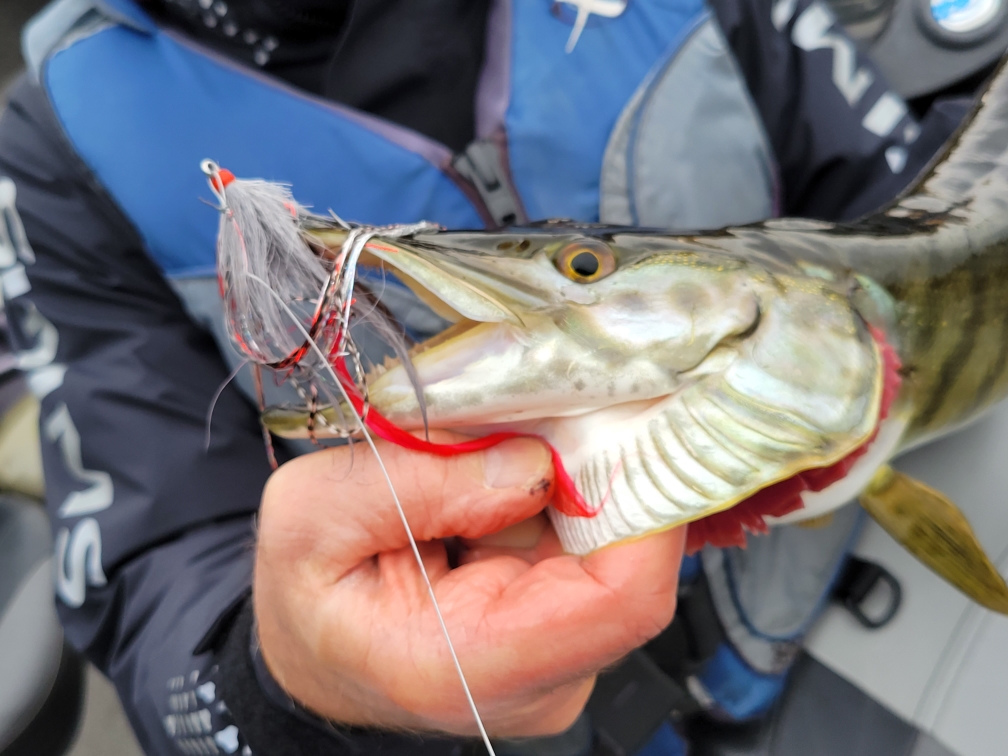 Most dates are available for the rest of the year and heading into 2024.  Landlocked salmon, northern pike and lake trout will be my main targets going forward.  If the state launch remains open at Skaneateles Lake, mixed-bag fishing for perch, trout, bass and perhaps some walleyes will all be a possibility!