Seneca Lake
This lake usually provides good to excellent year-round open water fishing as it virtually never freezes over due to its intense depths. Trout and salmon fishing here has left a lot to be desired since 2016.  Prior to that, the lake rivaled Cayuga's in terms of its lake trout and landlocked salmon fishing.  This lake used to account for 20% to 35% of my guide trips.  I guided 11 trips here in 2021, up from 3 in 2020.   We had good to excellent landlocked salmon fishing here from January through April of 2021.  Numbers of fish were excellent, although the sizes of the fish we encountered were on the small side (averaging 15″ to 17″.)   I fished and guided the Memorial Weekend Lake Trout Derby and fishing was very tough for lake trout.  The remainder of my guided trips here were primarily targeting northern pike from October through to the end of December.  The pike fishing was good to excellent on fish running around 25″ to 26″ for the most part with occasional 29″ to 30″ers.   I expect more good salmon and pike fishing here in 2022, although the salmon fishing was off to a slow start late in 2021.
Seneca Lake in the Fall - View from Glenora!
Mark with a nice Seneca Salmon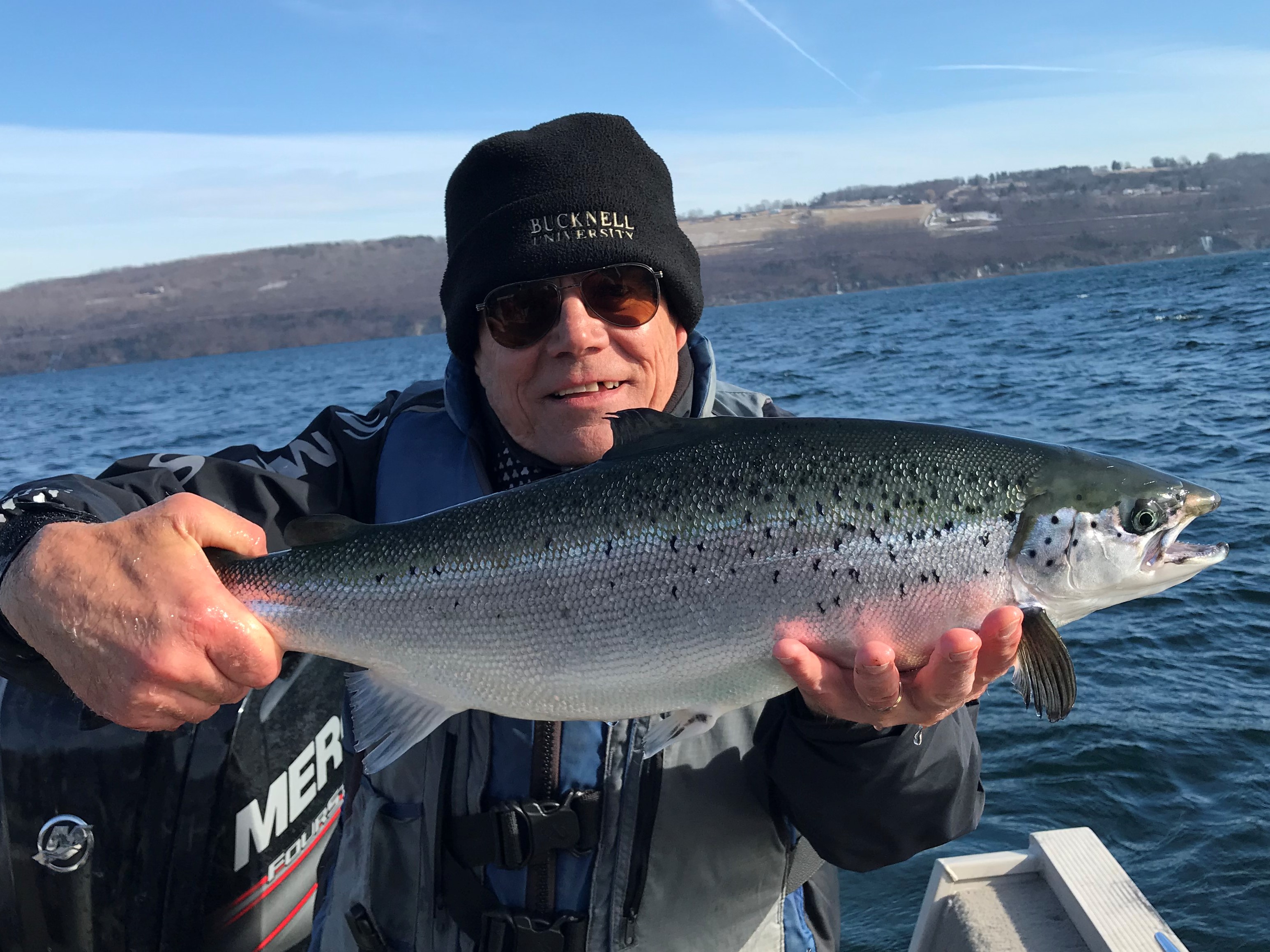 A lot of rumors are circulating around baitshops, online and around fishing areas with regards to the fishing here.  There may be some unknown factors affecting the fishing, but what I consider the main culprits are fairly obvious.  Region 8 DEC biologists surveyed Seneca Lake in 2020 and found decent numbers of healthy lake trout.  Wild production has gone down.  Alewife numbers are very high (i.e. there's a ton of bait here.)  DEC has increased lake trout stocking back to where it should be – at 2012 numbers.  More lakers should help knock down the alewives a bit.  That will help the yellow perch natural reproduction, since alewives eat a lot of young perch.  More lakers should result in less detrimental effects from lamprey, since the more hosts present, the less likely lampreys are to kill their hosts.  It will take some time but the lake is trending positively.
Northern pike fishing lake-wide has been good here over at least the past four years. We encountered good numbers of young fish during the fall of 2021, so with luck we'll be seeing good pikin' here going into 2022 and beyond.
Perch numbers here seem to be low.  At one time Seneca was in the discussion as one of the best trophy perch lakes in the country.  Those days are gone for now.  There are great numbers of young smallmouth bass around and quite a few sizeable largemouths to be found.  That's a big plus.  There's been no sign of gobies yet – although they are in the canal that connects Cayuga and Seneca Lake, so they could be a factor soon.
This lake has a virtually straight north to south basin with very few major points and very little curvature; high winds can produce huge waves here.  Don't count Seneca Lake out anytime soon!
Tim with a 35" pike caught in June 2018